NANCHONG, Sichuan Province: As a responsible international stakeholder, China should help ward off a global slowdown, or even a recession, the World Bank group president has said.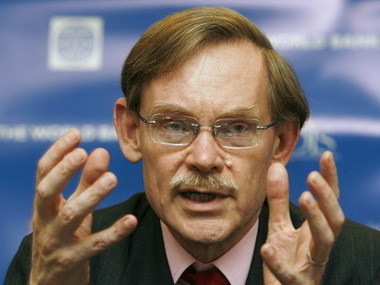 World Bank President Robert Zoellick speaks during a meeting with editors in Jakarta December 13, 2007. [Agencies]
China will continue to be a growth engine in the global economy but it faces the challenges of an international slowdown because of the subprime mortgage crises in both the United States and Europe, Robert B. Zoellick said.
"China and the world economy are related," Zoellick told China Daily. "Coming back to the 'stakeholder' concept, we need to adjust our approach to the new challenges."
In September, the World Bank Beijing office said that the recent international financial market turmoil may affect China's economy, but that the country is well placed to absorb the impact.
"The World Bank is in a good position to work with China" to fight against global economic woes," he said.
Zoellick came up with his "stakeholder concept" in September 2005 when he was the US Deputy Secretary of State, saying in a speech: "As a responsible stakeholder, China would be more than just a member; it will work with us to sustain the international system that has enabled its success.
"The logic behind the concept is that China, after 30 years of fast development, has interest in the system and so it has reason to be engaged, and meanwhile, it has responsibility in the international system."
Zoellick said over the weekend that "China's economy is healthy", adding that the demand it creates will partly help sustain the global economy.
The World Bank has said China's domestic economic climate remains buoyant, with high profit and credit growth, investment strong and consumption robust.
It forecast 11.3 percent growth for China this year and slightly below 11 percent the next. It said a strong macroeconomic position provides room to adjust the domestic policy stance, if necessary, to maintain high growth.
Gross domestic product grew by 11.5 percent in the first three quarters of this year from the same period last year.
However, Zoellick predicted that the US economy would certainly slow down and a recession may emerge.
He spent Friday and Saturday in Guangdong and Sichuan provinces and Chongqing Municipality to identify the country's development challenges before meeting Premier Wen Jiabao in Beijing Monday. He is scheduled to meet State leaders and Cabinet ministers this week.