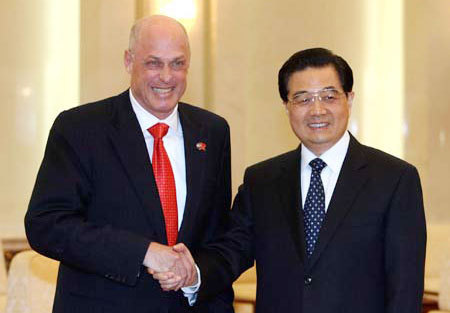 President Hu Jintao (R) shakes hands with US Treasury Secretary Henry Paulson in Beijing December 13, 2007. Paulson led the US delegation for the China-US Strategic Economic Dialogue which ended on Thursday. [Xinhua] 
XIANGHE, Hebei: China and the United States Thursday agreed to beef up collaboration in the financial services sector.
Under agreements reached at the concluding day of the Third China-US Strategic Economic Dialogue (SED), qualified foreign-invested companies, including banks, will be allowed to issue renminbi-denominated stocks and bonds.
Beijing also pledged to reexamine its policy on foreign participation in domestic securities firms and come up with recommendations on new ceilings for foreign ownership, according to a joint fact sheet circulated after the dialogue.
A similar study of Chinese banks - which will recommend new ceilings on foreign ownership - is under way and will be completed by the end of 2008.
The two sides wound up the two-day SED - held in Xianghe, Hebei Province - with the signing of 31 agreements. Apart from financial services, they range from food safety, product quality, the environment and energy to China's market economy status.
Citing progress on food safety and environmental protection, Vice-Premier Wu Yi called the SED a "complete success".
"Both sides need to discuss Sino-US economic relations from a strategic point of view and map out a better blueprint for future economic and trade relations," Wu, head of the Chinese delegation, said.
In his closing statement, US Treasury Secretary Henry Paulson said delegates talked about "the importance of balanced growth in both our nations".
"We also both recognize the need to fight economic nationalism in our two nations," he said.
Shortly before the SED, China tripled the quota for qualified foreign institutional investors, which can invest in the domestic stock market, from $10 billion to $30 billion.
In return, the US said it remains committed to providing a level playing field to Chinese banks and broker-dealers seeking to open branches or register and operate in the US.
Paulson said that opening China's financial markets to foreign competition strengthens the financial backbone of the Chinese economy. "It's critical to China's goals of spreading the benefits of growth to all Chinese people," he said.
Both countries committed to address economic imbalances through dialogue and oppose trade and investment protectionism.
Playing down disputes on the speed of the yuan's appreciation, Paulson said "we didn't spend a lot of time talking about how fast is fast".
A statement from the US delegation recognized China's progress in its yuan appreciation policy: "The renminbi has appreciated 12.2 percent since July 2005, and in the past year the annual pace of appreciation accelerated from 3.4 percent in 2006 to 6.1 percent in 2007 year to date."
Vice-Commerce Minister Chen Deming made it clear on Wednesday that China was not against the yuan's appreciation, but stressed that a rapid rise of the currency would hurt the nation's economy, which would not be positive for the world.
Working group
China and the US Thursday also agreed to set up a working group to outline a 10-year blueprint for energy and environment cooperation.
The two countries agreed to cooperate extensively for 10 years, focusing on technological innovation, and adoption of clean technology and sustainable natural resources, an SED statement said.
The move is aimed at raising energy efficiency and fighting climate change. The working group will soon start planning for the 10-year project.
"China and the US recognize that working together, we can each be more effective in achieving energy efficiency, energy security and a cleaner environment," Paulson said.
President Hu Jintao and Premier Wen Jiabao Thursday met Paulson separately in Beijing.
Hu, who initiated the SED with US President George W. Bush in September 2006, told the US delegates said he hopes the two sides make efforts to ensure the dialogue better serves the overall development of China-US relations.
Paulson told Hu that "we are building trust" between the two countries. "There is comfort between our communication, which makes it easier to deal with our conflicts and difficulties."
Wen told Paulson that China attaches importance to the trade imbalance with the US, and has taken a series of positive measures to reduce the surplus.
"We also hope the US side will address our concerns, formulate open policies of trade and investment, lift limitations on China's exports and provide a fair environment for Chinese companies to invest in the United States," he said.
Xinhua, agencies contributed to the story