Despite the resignation of Abe, China's relations with its neighbor will continue to grow in the coming years, the Foreign Ministry said on Wednesday.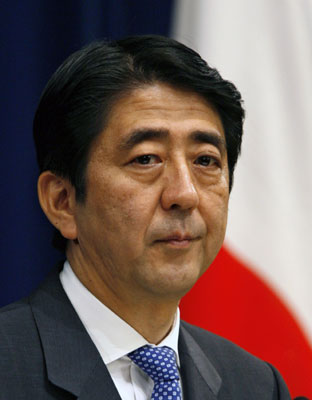 Japanese Prime Minister Shinzo Abe speaks during a news conference at his official residence in Tokyo September 12, 2007. Abe, struggling after a bashing at the polls and suffering low support rates, told the news conference on Wednesday that he was resigning. [Reuters]
Spokeswoman Jiang Yu said closer ties are in the interests of both nations, and the momentum of improvement would not be dented.
"China-Japan relations have improved through the efforts of the governments and peoples of both nations over the past year," said Jiang.
A five-year impasse in bilateral ties ended when Abe made China his first foreign destination after taking office last September, visiting just weeks after becoming prime minister.
"Aside from election defeat and slipping popularity ratings, the increasing number of funds scandals involving members of his Cabinet coming to light has put pressure on Abe to step down," said Liu Jiangyong, an expert at the Institute of International Studies under Tsinghua University.
"Support for the ruling Liberal Democratic Party (LDP) has been damaged by his concentration on ideological issues such as constitutional reform at a time when many Japanese are concerned about the widening gap between the rich and poor," said Liu.
"Abe may have feared he no longer had the clout to win the public's support for the Afghan mission."
Liu said the resignation was designed to allow the LDP to generate new energy in the face of political deadlock with the opposition.
It has also been suggested internal party strife could have been a factor.
"The stalemate over the naval mission and other woes could spark a snap election in the more powerful lower house, threatening political instability," said Liu.
Feng Zhaokui, a Japan specialist at the Chinese Academy of Social Sciences, said he did not expect vast changes in China-Japan relations.
The relationship with China is so important that no Japanese politicians can afford to ignore it, he said.