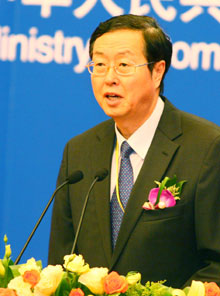 Zhou Xiaochuan, governor of the People's Bank of China (PBoC), speaks at a forum at the 11th China International Investment and Trade Fair in Xiamen, Fujian Province September 8, 2007. [newsphoto]
XIAMEN - China will unveil financial policy changes to support overseas investment of domestic companies, Zhou Xiaochuan, governor of the People's Bank of China (PBoC), said Saturday.
The central bank will scrap unnecessary controls on foreign exchange reserves to fund local firms'outbound investment, Zhou told a forum at the 11th China International Investment and Trade Fair in Xiamen, a coastal city in southeastern Fujian Province.
"We will remove unnecessary restrictions on reviewing sources of foreign exchange funds, as well as on foreign currency purchase and profit remittance," he said.
"We will also allow domestic firms to use their own foreign exchanges or buy foreign funds with local currency yuan to invest abroad."
The governor noted the central bank will explore ways to buy shares in foreign banks so as to provide more convenient financial services for the overseas operations of domestic businesses.
"We encourage them to raise capital through various means including bank loans, stock listings and bond sales," he said, adding their domestic operations can provide warrants for the fundraising once they get official go-ahead.
Zhou acknowledged that the PBoC has long been taking vigorous efforts to cultivate and develop the foreign currency markets during the past few years.
He added: "We will crank up efforts to develop more products on the foreign currency markets to help companies evade risks brought about by the changes in market exchange rates and interest rates."
"The central bank will also strengthen research on business and legal environments in global regions where it enjoys bilateral tech cooperation agreements or funds with the regional bank institutions."
China sees negative interest rates as the consumer inflation climbs mainly due to food price hikes, prompting more people to transfer their bank deposits to the red-hot stock markets for higher earnings.
China's one-year benchmark deposit rate reached 3.60 percent after a 0.27 percentage points rise starting from Aug. 22, the fourth rise this year.
But the consumer price index, the main gauge of inflation, may exceed the ten-year high of 5.6 percent in July, said Bi Jingquan, vice head of the National Development and Reform Commission.
Direct Investment in HK Stock Market
China has finished at least half of the preparations for the local residents' direct investment in Hong Kong stock market, Zhu Min, vice president of Bank of China (BOC), said Saturday.
"The preparations go smoothly, but there are still many technical problems yet to be addressed," Zhu said on the sidelines of the Inaugural Annual Meeting of the New Champions hosted by the World Economic Forum in China's northeastern coastal city of Dalian.
"It takes a lot of time to prepare new softwares and investors education and train staff members. However, we have no plan to delay it," he told Xinhua.
The State Administration of Foreign Exchange announced on August 20 that the mainland individuals would be able to directly buy HK shares through BOC's Tianjin branch amid efforts to cut the country's huge forex reserve and excessive liquidity.
"Tianjin is the only pilot city. It's hard to say if the program will expand to other cities in the future," Zhu noted in response to earlier media reports saying the program would be expanded to many other cities and be launched in early September.
"The program will not have big impact on the sales of qualified domestic institutional investors products as the latter have already been given go-ahead to invest in almost all the global equity markets," he said.