SHANGHAI -- At 7:59 am Beijing time Saturday morning, two giant pandas took off on a 747 freighter from Shanghai directly to Spain.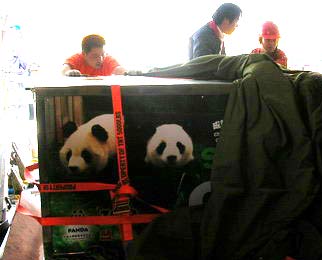 Workers load a container with one of the pandas for

Spain

to a TNT 747 freighter in the

Shanghai

Pudong

International

Airport, on the morning of September  8 2007. [Huang Zhiling/chinadaily.com.cn]
The pandas are on their way to Spain's Madrid Zoo for a 10-year stay which is part of the Giant Panda International Conservation Cooperation Project between China and Spain.
Bing Xing and Hua Zuiba, the panda duo, will land in Madrid Saturday evening after flying for nearly 14 hours, said Michael Drake, Managing Director for TNT Greater China.
TNT, the world's leading express and mail delivery provider, has been appointed the official carrier, overseeing all stages of the panda transfer.
They panda pair will then be transported to the Madrid Zoo. After a brief break to help them acclimatize to the local environment, they will make their official debut in late September 2007, he told chinadaily.com.cn.
Seven-year-old male panda Bing Xing, whose name means "Star of Ice," weighs 140 kilograms, and four-year-old female Hua Zuiba, whose name means "Cuty Lips," weighs 93 kilograms.
Friday afternoon, the pair bade farewell to their home in the Chengdu Research Base of Giant Panda Breeding in the capital of Southwest China's Sichuan Province and boarded a TNT delivery truck bound for the Chengdu Shuangliu International Airport.
Upon their arrival in Shanghai, the pandas were immediately invited into a large air-conditioned vehicle for a night of rest, during which they were closely monitored by veterinarians. Saturday morning, the pandas boarded TNT's 747 freighter for their direct flight to Madrid.
"Two raisers from the Chengdu Research Base of Giant Panda Breeding and three workers from the Madrid Zoo are accompanying the pandas during the flight," said Zhang Zhihe, chief of the Research Base of Giant Panda Breeding.
The panda pair is being sent to Spain on loan, following through on a goodwill gesture promised during a visit to the country by Spanish King Juan Carlos in June.
According to Jesus Fernandez Moran, an official from the Madrid Zoo, around September 14, the Spanish royal family will host a welcoming ceremony for the panda pair. Both Queen Dona Sofia and Qiu Xiaoqi, Chinese ambassador to Spain, will attend the ceremony.
Moran said the Madrid Zoo had prepared well for their arrival.
"Deluxe single rooms, air conditioners and humidifiers have been prepared. Their rooms are equipped with 11 closed circuit monitors to watch them round the clock. They will be bred separately, but live close to their raisers," Moran said.
Before construction of the living space for the giant pandas, workers from the Madrid Zoo visited those in the Chengdu base, Hong Kong Special Administrative Region and Schönbrunn Zoo in Vienna to get more experience in the aspect.
"Using Chengdu's practice for reference, we built a pool and put up wooden structures for the pandas to have fun and increase the variety of their activities," he said.
Fresh bamboos will be supplied from areas near Madrid as well as France and Portugal, he said.
On June 29, Spanish Queen Dona Sofia visited the Chengdu base. After her pictures with 10-month-old panda Yuanda appeared in the Spanish media, pandas drew great interest from the Spanish who were looking forward to the duo's arrival.
The Spanish loved the giant panda so much that toys in its shape were popular in Spain. In 1978, China sent a pair of pandas, Zhao Zhao and Qiang Qiang, to Spain. The Spanish were very sad for a long time after they died, said Carlos Blasco Villa, the Spanish Ambassador to China.
The Madrid Zoo proposed a cooperation program involving research on giant panda protection with the Chengdu base two years ago, and the program was launched on June 29 during a state visit to China by Spanish King Juan Carlos.
China has a long history of giving the endangered panda to other nations as a gesture of goodwill. Eleven Zoos in six countries raise 28 pandas from China, Zhang said.
A pair of young giant pandas will soon call Adelaide Zoo in South Australia. President Hu Jintao and Australian Prime Minister John Howard signed an agreement on Thursday formalizing the 10-year loan in Sydney.
The couple will be the first pandas to settle down in the southern hemisphere.
Both Zhang Zhihe and Zhang Hemin, chief of the Wolong Nature Reserve, were optimistic the panda pair could adapt to the new environment in the southern hemisphere.
"Pandas boast a relatively strong ability to adapt to the environment," said Zhang Zhihe, while Zhang Hemin, another noted Chinese panda expert, said the two pandas would have no problem adapting to the southern hemisphere with human help.
"Their house will be built by humans who can control their room to a desired temperature of 25 degrees Centigrade for the pandas and feed them bamboo, artificial diets made of fruits, carrot, special biscuits with high vitamin contents, trace elements and additives such as multi-vitamins," he told chinadaily.com.cn.
"The southern hemisphere has bamboo, the staple food of pandas," he said.
Zhang confirmed the panda pair for Australia would come from his reserve but declined to give further information.
The panda is one of the world's rarest animals, with about 1,590 living in the wild in China, mostly in Sichuan, according to the State Forestry Administration.