BEIJING, August 26  -- The sulfur dioxide emission in China fell a year-on-year 0.88 percent in the first half of this year, the first decrease in several years, said China's top economic planner on Sunday.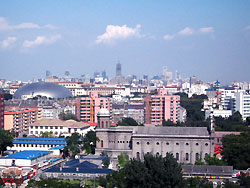 The photo shows a clear day in Beijing on August 13 as China saw sulfur dioxide emissions fall 0.88 percent in the first half of this year. [Xinhua]
Ma Kai, minister of the National Development and Reform Commission (NDRC), said in his report to the ongoing 29th session of the Standing Committee of the National People's Congress (NPC) that the decrease of sulfur dioxide was due to introduction of the sulfur-removal equipment into coal-fired power plants and efforts to close down small plants with high energy consumption and pollutants emission.
He said the per unit gross domestic product (GDP) energy consumption fell 2.78 percent in the first six months than the same period of last year.
However, the chemical oxygen demand (COD) still increased 0.24 percent over last year, Ma said.
"We can find from the figures that China is still facing serious problems in energy saving and pollutants emission reduction," Ma said.
He said economic growth, especially the growth of industries with high energy consumption and pollutants emission, was still too rapid, which put more pressure on achieving the energy saving and discharge reduction goals.
"A series of environmental pollution accidents, such as the outbreak of blue-green algae in China's major lakes -- Taihu Lake, Chaohu Lake and the Dianchi Lake this year, have sounded alarms for us that it's difficult to sustain economic and social development if the energy saving and discharge reduction problems cannot be solved properly," he said.
He said some local governments still take economic growth as the sole criterion for evaluating officials' performance and didn't introduce the energy saving goal into the evaluation system, which was the main reason for the difficulties of energy conservation and pollution reduction.
China has committed itself to improving energy efficiency -- to cut energy consumption by 20 percent per unit of GDP, along with a 10 percent cut in major pollutants, between 2006 and 2010.
However, China missed both the energy conservation and discharge reduction goals last year.
Its per unit of GDP energy consumption fell 1.33 percent in 2006, well short of the projected target of 4 percent.
China also failed to achieve its pollution reduction goal, with major pollutants, including sulfur dioxide emissions and COD, both increasing last year.