Five people went on trial in northern China yesterday for their involvement in the brick kiln slave labor scandal that shocked the country.

Those facing charges at the Intermediate People's Court of Linfen in Shanxi Province are kiln boss Wang Bingbing, foreman Heng Tinghan and hired guards Zhao Yanbing, Heng Mingyang and Liu Dongsheng.

They are each accused of illegal detention, forced labor and mayhem, the court said.

As the case involved so many people, no verdict was reached yesterday, the Xinhua News Agency quoted a court official surnamed Hu as saying.

The trial will continue and a verdict will be reached as soon as possible, Hu said.

However, the local media was unsatisfied with the charges, saying the suspects should be also accused of human trafficking and child labor.

The use of slave workers in northern and central China, many of them children, caused public outrage across the country after 400 parents posted an online petition in late May, saying their missing children had been sold to illegal brick kilns in Shanxi and Henan to work as slaves.

After the case was exposed, police raided a kiln in Caosheng village in Hongtong County in Linfen and freed 31 workers, the youngest of which was 14. They had been forced to work for up to 16 hours a day with little food and no pay. Fierce dogs and thugs prevented them from escaping.

Investigations also found that a mentally disabled worker named Liu Bao had died in November after being beaten with a shovel. He was also later buried without proper documentation.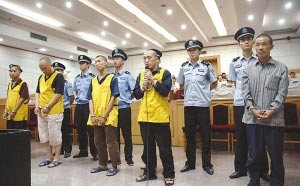 Five suspects stand trial at the Intermediate People's Court of Linfen in Shanxi Province in the case of the recent forced labor scandal. Kiln boss Wang Bingbing (second from left), foreman Heng Tinghan (right) and alleged gangsters Zhao Yanbing (second from right), Heng Mingyang (center) and Liu Dongsheng are charged with illegal detention.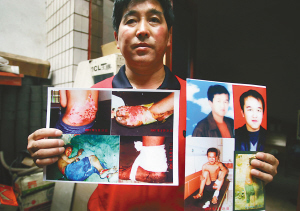 A man shows the pictures of his son Zhang Yinlei who was abused in a brick kiln.

Foreman Heng was listed as the suspected chief villain in the scandal and was captured in Central China's Hubei Province last month after a nationwide manhunt.

Another of the so-called "thugs", Chen Zhiming, was, as of Tuesday, still at large. The Ministry of Public Security has issued an order for his arrest.

China's Criminal Law states that anyone who illegally detains another person and causes severe body injury shall receive a minimum sentence of three years. Capital punishment can be meted out if death is involved.

Also yesterday in court, one victim, 17-year-old Zhang Wenlong, who was seriously burnt by hot bricks, appealed for compensation of 500,000 yuan ($66,000). Other victims have made similar requests, but for lesser amounts, according to local media reports.

Xiao Han, a professor with China University of Political Science and Law, said the victims should also receive State compensation as the case might involve dereliction of duty on the part of the local police and government officials.

At least one village-level Communist Party secretary - Wang Dongji, the father of kiln owner, Wang Bingbing - has been expelled from the Party.

The trial is expected to be the first of many connected to the scandal.

Official figures show that a cleanup operation by police has so far freed 591 workers from illegal kilns in Shanxi and Henan and detained 168 suspects.