The latest: The number of forced laborers and child labor rescued and freed from brick kilns in Henan and Shanxi provinces has reached 468. The police operation to save the slave workers is still under in the provinces.
Top leaders were also shocked by the "horrific" slavery brought to light in Shanxi kilns, and President Hu Jintao and Premier Wen Jiabao have instructed relevant departments and local authorities to investigate and deal with law-breakers severely.
Editorial: Root out forced labor

Media disclosure this week of the extremely harsh conditions suffered by some migrant and under-age workers in illegal brick kilns in Northern Shanxi Province and Central Henan Province shocked both the central government and society. more:

On our forum :shutting down slavery
Thirty-one dirty and disorientated workers have been rescued from a brickwork factory in China, where they were being held as virtual slaves. more:


Shanxi has launched a war against the illegal kilns and a special operation to save the abducted workers.
Shanxi public security department said they have checked 768 kilns, small coal mines and small iron ore mines, rescued 251 abducted workers from these sites. More than 40 people have been detained for further investigation.
Rescue operation under way
Rescue teams comprising a staggering 35,000 police officers in Henan Province have freed 217 people, including 29 children, from slavery in illegal brick kilns - but more are believed to be held captive, provincial police said yesterday.
The laborers were abducted by human traffickers and taken to the kilns, where they were beaten, starved and forced to work long hours without payment, according to the police.
Up to 120 suspects have been detained.
Reacting to media reports in the past week on the plight of the trafficked children, many of them from Henan, held captive in the province and neighboring Shanxi, Henan police started inspecting brick kilns in the province on Saturday.
Until Tuesday, police checked 7,500 kilns, and the campaign continues.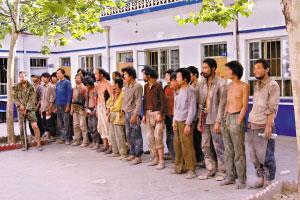 Workers stand after rescued from a brick kiln in Hongtong County, Linfen City, North China's Shanxi Province in late May 2007. [Guangzhou Daily]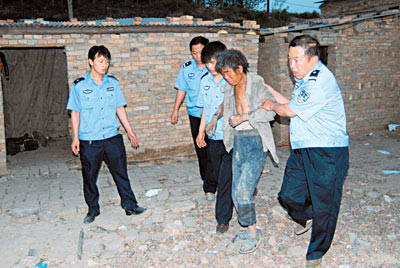 Chinese policemen help a young worker to leave a brick kiln in Hongtong County, Linfen City, North China's Shanxi Province in late May 2007. [Shanxi News Net]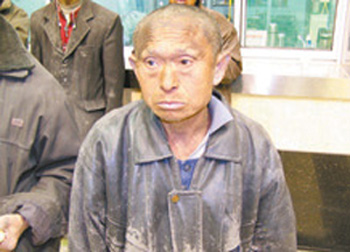 One worker rescued from a a brick kiln [Shanxi News Net]

Qin Yuhai, vice-governor and police chief of Henan, said: "We must do everything we can to fight human trafficking and rescue those held captive."

The provincial police bureau told China Daily yesterday it had asked its counterparts in Shanxi to help with the rescue; and reported the case to the Ministry of Public Security.

Spokesman Wu Heping said the ministry has asked for more information from the provincial bureaus in Henan and Shanxi on the alleged slave labor.

Wang Zhaoguo, a member of the Political Bureau of the Communist Party of China (CPC) Central Committee, and also the president of the All-China Federation of Trade Unions, had ordered the investigation.

The Shanxi Evening News reported that Zhang Mingqi, a member of the federation's secretariat, expressed "great shock" over the "horrific" case when he visited a kiln in Hongtong of Shanxi on Wednesday.

Police freed 31 workers from the kiln late last month, with the youngest aged 14. One worker was earlier beaten to death, the report said.

The Ministry of Public Security has issued a warrant for the arrest of a kiln overseer, Heng Tinghan, who is at large.

The slave labor issue first surfaced last Thursday when 400 fathers in Henan - who believed their children had been sold to work in illegal brick kilns in Shanxi - sought help online.

The fathers said in a petition that they had "spent all their money and risked their lives to go deep into the mountains looking for their children, the youngest only eight". They managed to rescue about 40 but said there were at least 1,000 child laborers still in Shanxi.

They said some children had been isolated from the outside world for seven years, and some were beaten and maimed when they tried to escape. The backs of some were burnt by supervisors with burning red bricks.

The International Labour Organization Office for China and Mongolia yesterday said it would keep a close eye on developments in the case, and called for stronger child protection.

China's Criminal Law stipulates that anyone who illegally detains another person and causes severe body injury shall receive a minimum sentence of three years. Capital punishment can be meted out if death is involved.