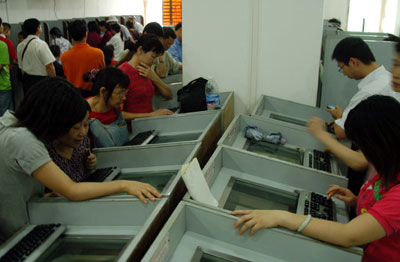 Investors monitor the movement of stock prices at a brokerage firm in Guangzhou, South China's Guangdong Province May 9, 2007. [newsphoto]
Chinese stocks rebounded from an early tumble on Monday, undaunted by the latest tightening measures - a simultaneous increase in interest rates and bank reserve requirements.
The benchmark Shanghai Composite Index gained 1.04 percent to close at 4,072.23 points. The Shenzhen Composite Index went up 1.45 percent to 1,181.41 while the Shanghai and Shenzhen 300 Index of major companies rose 1.45 percent to 3,831.44.
In response to the tightening measures, the Shanghai Composite Index opened at 3,902.35, a decrease of 3.18 percent from Friday's close. However, it quickly recovered the lost ground as investors saw the dive as a good opportunity to buy.
Bank stocks were weak, with China Minsheng Banking Corporation being the biggest loser, falling 1.72 percent to 13.18 yuan per share. The Industrial and Commercial Bank of China declined 0.73 percent to 5.45 yuan, while Bank of China dipped 1.03 percent to 5.75 yuan.
Coal shares showed strong performances. Datong Coal, Anhui Hengyuan Coal Industry and Electricity Power, and Shanxi Xishan Coal and Electricity Power jumped their daily limits of 10 percent.
Air China soared 9.2 percent to 11.28 yuan. In the insurance sector, Ping An Insurance of China gained 2.03 percent to 63.46 yuan while China Life was up 0.36 percent to 39.2 yuan.
Trading was heavy, with the volume in the Shanghai Stock Exchange hitting 211.4 billion yuan and turnover in Shenzhen reaching 106.2 billion yuan.
Special coverage:
Stock Market

Related readings:
Stock-buying fever grips China
China stocks break key barrier
China raises bank reserve ratio to 11%
China stocks rebound, recovering lost ground
Stocks fall as GDP growth, inflation accelerates
Stock index futures unlikely before July - report
On Friday, the central bank raised the benchmark one-year interest rate by 0.27 percentage points to 3.06 percent, and one-year lending rate by 0.18 percentage points to 6.57 percent. It also ordered commercial banks to set side 11.5 percent, of their deposits as reserves, up from 11 percent.
That marked the first simultaneous use of two monetary tools in a decade, as well as the eighth increase in reserve ratio since last July and fourth interest rate hike since last April.
Also on Friday, the reminbi's daily trading limit against the US dollar was widened to 0.5 percent from 0.3 percent.
Monday's rise was reminiscent of what happened on March 19 after the interest rates was hiked and on April 30 after the bank reserve requirements rose.
The Shanghai Composite Index gained 2.87 percent on March 19 and 2.16 percent on April 30 despite the central bank moves.
This kind of neglect of policy and blindly pushing up the equity market fosters a big market risk, said Zuo Xiaolei, chief economist of China Galaxy Securities said in an article earlier this month.
"China's equity market is starting to show signs of getting out of control," said Zuo.
Professor Ning Xiangdong of Qinghua University agreed. "People are crazy now. They talk about stock issues at work, at home ... they only care about speculation. They don't care about what the government has done to control the economy."
CITIC Securities analyst Ma Qing also expressed worries about the situation. "It's time to despair if the bourse continues to rise on Monday."
The repeated defiance of tightening policies may prompt the government to resort to more dramatic measures, including the levy of capital gains tax, analysts said.
But several financial experts warned against direct intervention into the stock market.
"Regulators should not start collecting capital gains tax, which will harm the stockholders greatly, " said Professor Cao Fengqi of Peking University at a recent forum, a point echoed by Liu Jipeng of Chinese University of Political Science and Law in Beijing.
To deflate the bubbles, Liu suggested regulators should increase the supply of stocks and do more to educate investors on risks.
The interest rate rise could hardly stop a diversion from bank deposits to stock market, said Liu, as the deposit rate in the country is still low.
Household deposits decreased by 167.4 billion yuan in April, according to central bank statistics. A substantial part of money is expected to have flowed into the stock market.