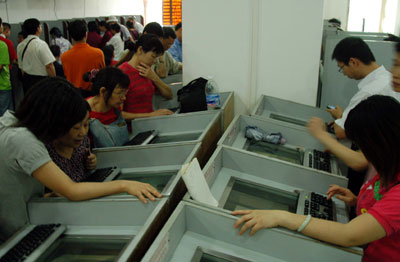 Investors monitor the movement of stock prices at a brokerage firm in Guangzhou, South China's Guangdong Province May 9, 2007. [newsphoto]
Xiao Feng, a former investment consultant at a futures company in Nanjing, put his three apartments and two vehicles - worth 5 million yuan - up as collateral days ago to get a 10 million yuan loan to invest in the stock market.
But the cost of borrowing is high - with an annual interest rate of 25 percent, he'll have to pay the lender 2.5 million yuan in interest at the end of the year, reported the Nanjing Morning Post on Wednesday.
In addition, the lender will monitor his stock trading account. If the value of Xiao's portfolio drops below 8 million yuan, the lender will liquidate his stock holdings to prevent a further decrease in the principal, spelling a loss of two million for Xiao.
Special coverage:
Stock Market

Related readings:
China stocks break key barrier
China raises bank reserve ratio to 11%
China stocks rebound, recovering lost ground
Stocks fall as GDP growth, inflation accelerates
Stock index futures unlikely before July - report
More investors join 'wild' bull run
China stocks hit fresh high
Blue chips push stocks to new high
China stocks at new high after seesaw session
China stocks hit new high on investment fever
China stocks hit record high
When the 2.5-million interest payment is also taken into account, Xiao Feng will lose what he has worked for in the past 10 years - all his collateral.
Then why take such a risk? "Maybe it is the lure of the stock market. If an investment in a stock triples, or quadruples in a short period, then why not try?" he replied.
What Xiao is doing mirrors an investment mania that is sweeping across China. The stock market has soared more than 50 percent so far this year on top of a 130 percent gain in 2006, drawing tens of thousands of investors in each day.
Record number of investors flood in
A total of 4.79 million new A-share trading accounts were opened in April, 853,500 more than the combined total for the previous two years, according to statistics from the China Securities Depository and Clearing Corporation.
On Tuesday, the first trading session after the week-long May Day holiday, nearly 370,000 A-share accounts were added, almost half of the number for the whole year of 2005.
Figures for the new accounts are considered a rough indicator for the number of new individual investors entering the market although there have been cases in the past where individual traders have opened thousands of accounts using fake identification.
There is also the issue of double counting as most investors open accounts in both the Shanghai and Shenzhen stock exchanges so they can buy stocks in companies listed in either cities, so in fact the actual number of investors will be less than the number of accounts.
By Wednesday, the number of accounts at the Shanghai and Shenzhen bourses is almost 95 million, official statistics showed.
Experts estimate there are at least 30 million individual investors in the country. Suppose each investor is in a family of three, then that means at least 90 million Chinese are directly or indirectly involved in the stock market.
Given the fact that nearly 800 million of China's 1.3 billion people live in the rural areas and do not have easy access to stock investment, the percentage of people investing in stocks is high.
Worries about bubbles
The wave of new money has consistently pushed the Shanghai and Shenzhen markets to new highs.
The benchmark Shanghai Composite Index broke the psychologically important barrier of 4,000 points on Wednesday, less than two months after surpassing the 3000-point mark.
Video: Shanghai Composite Index surpasses 4,000

The sharp gains are once again raising worries about stock overvaluations. The stocks in the Shanghai and Shenzhen markets are trading at more than 40 times of listed companies' earnings per share on average, much higher than developed markets overseas.
The growing bubble in the country's stock market is a concern, said central bank governor Zhou Xiaochuan last week, adding he would closely monitor asset prices, the consumer price index and producer price index.
Zhou's remarks added to speculation there could be an interest rate hike as early as next month.
Xie Guozhong, former chief China economist for Morgan Stanley, suggested regulators should come up with certain policies to put the brakes on the surging stock market for the good of long-term economic development and social stability.
"China's equity market is starting to show signs of getting out of control," said Zuo Xiaolei, chief economist of China Galaxy Securities in China Securities Journal on Wednesday
The market rose even after the interest rate rose in March, and the bank reserve ratio increased in April, said Zuo.
"The neglect of government policy and blindly pushing up the equity market fosters a big market risk," he claimed.
Much pain if bubble bursts
When the bubble bursts, the pain will be much more painful as the losers are those that can least afford to lose their money, analysts said.
Unlike developed markets overseas, individual investors make up a majority of China's stock market, including a lot of retirees who risk losing their hard-earned savings.
Last week, a senior surnamed Zhang, 61, in Nanjing asked his daughter to invest his savings of 60,000 yuan into the equity market in hope of making a quick profit, reported the Nanjing Morning Post.
He did this despite being a victim of the bear market two years ago when he lost 75 percent of his 20,000 yuan investment, prompting him to pledge to stay out of the equity market forever.
But because of the booming stock market, he says, "it seems that I am losing out if I don't get involved."
Besides retirees, university students are also joining the bull run. Xiao Li, a student of Nanjing University, opened an account at a local brokerage firm in March. Part of his 10,000 yuan investment came from his parents for his daily expenses and the rest was borrowed from his girl friend.
He hopes to double his investment, at the expense of his nutrition. "To save money, I often just eat porridge and steamed bread for meals," said Li.