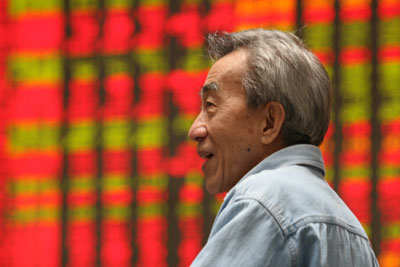 An investor smiles before an electronic board showing stock information at a securities firm in Xiamen, East China's Fujian Province March 20, 2007. [newsphoto]
China's main stock index Thursday hit new highs for the second day in a row on bullish investor sentiment and strong corporate earnings.
The benchmark Shanghai Composite Index closed up 13.84 points, or 0.45 percent, at 3,071.23, an all-time closing high, extending a record high of 3,057.38 in the previous session.
The Shenzhen Composite gained 0.36 percent at 808.56 while the Shanghai and Shenzhen 300 Index of major companies went up 0.31 percent to 2711.10.
The Shanghai Composite Index reached an intraday high of 3,099.82, a record high, before reteating to 3,071.23 at the close.
Special coverage:
Stock Market

Related readings:
Funds investment fever runs high in China
China faces liquidity, inflation pressure
Asian stocks plunge after US sell-off
US stocks plummet on lender woes
Central banker downplays market swings
Don't blame China for falling markets
Chinese unfazed as share markets tremble
Stocks fall as Ping An debuts
Stock plunge: Capitalism 101 for investors
Stocks recovered from record plunge
Stocks nosedive after record high close
The rise came as listed companies posted strong earnings. A 60.46 percent jump in after-tax profits was reported by the 386 companies that have released their annual report for the past year, compared with the 15.18 percent rise in the previous year, reports said.
The repeated hitting of new highs also found strength from the bullish sentiment of the Chinese investors who threw themselves into lines to open accounts at securities firms.
A total of 113,931 A-share accounts were opened Wednesday, the eighth consecutive trading day that saw an addition of more than 100,000 accounts, according to statistics from the China Securities Depository and Clearing Corporation Limited.
That compared with an average of 4,700 newly added accounts each day in 2005 when the market was in a bearish run.
Wednesday also witnessed the opening of nearly 20,000 fund accounts after some 130,000 ones were added Monday.
By 3:00 pm Wednesday, the number of accounts in the Shanghai and Shenzhen stock exchanges has topped 85.9 million, according to the statistics.
Energy shares helped push up the indices. China Petroleum and Chemical Corporation, Asia's largest refiner, ended up 3.87 percent at 9.40 yuan while Huaneng Power International Inc. gained 3.42 percent to 8.78 yuan.
Financial shares stage a mixed performance. Citic Securities rose 2.26 percent to 41.55 yuan while China Merchant Bank was up 1.16 percent to 16.62 yuan.
Bank of China, which is expected to release its annual report later Thursday or Friday, lost 1.32 percent to 5.24 yuan. China Life slid 0.75 percent to 34.35 after dipping 0.72 percent in the previous session.
Trading was active on the Shanghai and Shenzhen stock exchanges. A total of 12.61 billion shares were traded in Shanghai, at a volume of 112.65 billlion yuan. In Shenzhen, the turnover hit 59.09 billon yuan, with 1.22 billion shares changing hands.