Chinese stocks shrugged off fears of an interest rate hike to hit new high Monday as more investors jumped into the equity market.

The benchmark Shanghai Composite Index soared 3.53 percent to close at 3,710.88 points, a record high and the first close above the 3,700 mark, after a 3.92 percent rise on Friday. That marked a 38.70 percent gain so far this year after a 130 percent rise in 2006.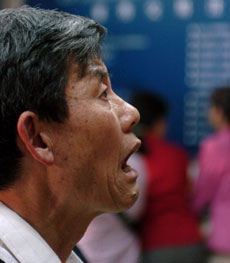 An investor monitors the movement of stock indexes at a brokerage firm in Chongqing April 19, 20078.[Xinhua]

The Shenzhen Composite Index gained 3.88 percent to 1,044.82 and the Shanghai and Shenzhen 300 index of major companies went up 4.32 percent to 3,431.31.

Blue Chips led the surge. Huaneng Power International jumped the daily limit of 10 percent to end at 13.48 yuan per share as China Petroleum and Chemical Corporation (Sinopec) increased 3.70 percent to 11.49 yuan.

Bank of China rose 2.36 percent to 5.65 yuan, while the Industrial and Commercial Bank of China gained 2.07 percent to 5.43 yuan. Ping An Insurance went up 2.96 percent to 56.98 yuan. China Life suspended trading as it did not disclose an important matter.

"The market will likely keep hitting new highs and investors may continue to buy large caps before the launch of index futures for arbitrage purposes," Wu Liewei, an analyst at KGI Securities, was quoted by the Associated Press as saying.

The surge in stock price came on back due to the bullish sentiment of investors who were eager to open accounts with securities firms.

A record high of 282,580 A-share accounts were opened Thursday, together with 349,535 investment fund accounts, according to statistics from the China Securities Depository and Clearing Corporation Limited.

It also said on Friday a total of 317,200 accounts were added, including 258,188 A-share accounts and 57,369 fund accounts.
Special coverage:
Stock Market

Related readings:

China stocks rebound, recovering lost ground
Stocks fall as GDP growth, inflation accelerates
Stock index futures unlikely before July - report
More investors join 'wild' bull run
China stocks hit fresh high
Blue chips push stocks to new high
China stocks at new high after seesaw session
China stocks hit new high on investment fever
China stocks hit record high
Friday represented the eighth session in a row that saw the opening of more than 200,000 accounts.
By 3pm Friday, the number of accounts in the Shanghai and Shenzhen stock exchanges topped 91.159 million, according to statistics.
The rises on Friday and Monday reversed a fall of nearly five percent on Thursday, the biggest drop since February 27 when the indexes lost nearly nine percent, triggering a global sell-off.
Thursday's plummet was attributed to the worries the central bank will raise interest rates to cool the economy and curb inflation.
China's gross domestic product grew 11.1 percent in the first quarter of this year, the National Bureau of Statistics said Thursday.
Meanwhile, the consumer price index, a barometer of inflation, climbed 3.3 percent in March, the highest in more than two years and above the central bank's target of three percent, according to the bureau. (US$1= 7.72 yuan)