VANCOUVER, British Columbia - A Canadian judge gave Lai Changxing, a smuggling kingpin, another chance on Thursday to fight deportation from Canada to face charges of running a smuggling empire.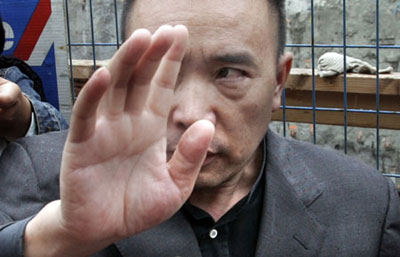 Smuggling kingpin Lai Changxing, one of China's most wanted fugitives, gestures while talking to media outside his residence in Vancouver, British Columbia June 1, 2006.[Reuters]
The Canadian official who approved Lai's removal order failed to properly consider Lai's claim that he would be tortured, a Federal Court judge ruled.
Lai's bid for political asylum in Canada already has been rejected.
The slow pace of Lai's deportation case -- which has gone on for seven years -- has become a thorn in Chinese-Canadian relations even though Ottawa has supported Beijing's efforts to have him returned.
The Canadian government can appeal this decision. If it doesn't officials would have to repeat their review of the risks Lai faces. Lai's attorney David Matas said that could stretch the process out for another two years before it is resolved.

China has made it clear that Lai will not be tortured or executed, but the judge said the official who approved Lai's removal failed to determine if the assurances on torture were "meaningful and reliable".

A relaxed-looking Lai, who is living under limited house arrest in Vancouver, told a news conference he was pleased by the decision, but would accept whatever decision the Canadian courts finally make.
Canada, which does not have capital punishment, normally refuses to extradite people to countries where they could face the death penalty.
Lai is accused of running a multibillion-dollar operation that bribed officials and police to avoid taxes and duties on goods ranging from oil to cigarettes that were smuggled into China's Fujian province in the 1990s.
Lai has denied wrongdoing and has said the allegations are politically motivated, a claim Canadian immigration officials dismissed in rejecting his asylum bid.
Lai, who grew up in a peasant family, said if allowed to stay in Canada he would turn to farming. "He says being a farmer is the safest," a translator told reporters.