China's most famous fugitive - Lai Changxing - could be returned to the country soon if a North American court turns down his final appeal today to avoid extradition.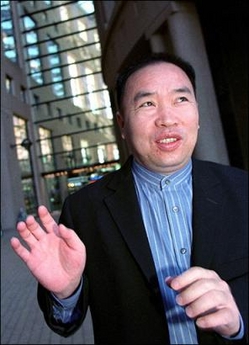 Lai Changxing in Vancouver, Canada, in 2001. Chinese fugitive Changxing's deportation to China was postponed, after Canada's Federal Court scheduled a hearing on May 31 in his last-ditch effort to remain in Canada. [AFP]

A Canadian federal court will hear Lai's application to overturn a final risk assessment on his extradition by immigration authorities in that country.

The Canadian Immigration and Refugee Board concluded recently that Lai, who is wanted on bribery and smuggling charges, would not be executed if he is deported to China.

Lai, 53, is accused of heading a syndicate, based in coastal Xiamen in southeast China's Fujian Province, that colluded with corrupt government officials to operate the biggest smuggling operation uncovered in China since 1949.

The case involved US$10 billion worth of goods ranging from cigarettes to cooking oil.

Lai fled to Canada with his wife, Tsang Mingna, and their three children in August 1999. For years he has been trying to gain refugee status, but all his attempts have been turned down.

Lai was put under house arrest in Vancouver in June 2002.

Xinhua news agency reported that Lai is preparing for deportation. His wife filed for divorce last May and petitioned to obtain Lai's property and a child-care allowance.

The divorce was approved the following month. Tsang was granted ownership of the apartment where the family lived, which has an estimated value of about C$490,000 (US$445,475).

The hearing on the child-care allowance was suspended. Lai's three children are all adults, aged 20, 22 and 24.

China has urged Canada to extradite Lai as soon as possible, a Foreign Ministry spokesman said earlier.

According to the Ministry of Public Security, 320 suspects in economic crimes involving 70 billion yuan (US$8.7 billion) have been repatriated to China in the past two years.

China has signed extradition treaties with more than 30 nations, the ministry said. But China and Canada haven't concluded an extradition pact.