Take all shark fin dishes off the menu before the 2008 Olympic Games, a lawmaker proposed yesterday.
The issue was put on the table by Xu Zhihong, a deputy to the National People's Congress and president of the prestigious Peking University, who said yesterday that shark's fin soup, bear's paw and swallow's nest considered delicacies and typically served at elaborate banquets might upset foreign guests.
"Serving shark fin to foreign guests during the Olympic Games could greatly hurt China's image, and officials should start removing the dish from the dining tables right now," he said.
He added that restaurants should also keep away from other wildlife like snakes during the Games. "It is not only an environmental issue, but one that has a direct bearing on the image of Chinese people," he said.
Figures show that shark fin imports have been soaring in China in recent years despite efforts by Chinese NBA star Yao Ming and gymnastics legend Li Ning last year to convince people to stop eating the dish.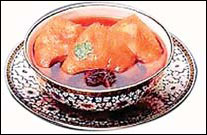 It is not just eating that has caught the attention of lawmakers and political advisors smoking in public has also come under attack.
Smoking should only be allowed in the open and in designated areas, Zi Huajun, a CPPCC member, said on Monday.
In response, Beijing's vice-mayor, Liu Jingmin, said yesterday that Games organizers have talked with Ministry of Health officials "about setting aside special smoking areas in Games venues so as to ensure most parts of the venues are tobacco free."
(China Daily 03/14/2007 page1)