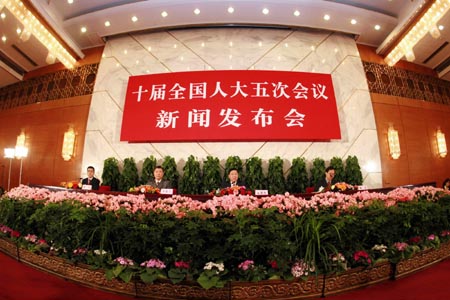 Spokesman Jiang Enzhu (C) speaks during the first press conference on the Fifth Session of the Tenth National People's Congress (NPC) which was held at the Great Hall of the People in Beijing March 4, 2007. [Xinhua]


China's defense budget for 2007 is expected to hit 350.921 billion yuan (44.94 billion U.S. dollars), 17.8 percent higher than that last year, a spokesman for China's top legislature's annual session said in Beijing Sunday.
Special coverage:
2007 NPC & CPPCC

Related readings:
US official: China's emergence no threatBush unveils $716.5b defense budget
Experts: Army spending transparent
Document lays out defence policies
Policy remains purely defensive
Defense spending at US$35B for 2006
The figure, which includes 347.232 billion yuan from the central budget and 3.689 billion yuan from the local budget, marks an increase of 52.99 billion yuan over that last year.

This year's defense budget accounts for 7.5 percent of the nation's budgeted fiscal expenditure, compared with 7.7 percent in 2004, 7.3 percent in 2005 and 7.4 percent in 2006, said Jiang Enzhu, spokesman for the Fifth Session of the Tenth National People's Congress, the top legislature of the country.

The State Council, or the cabinet, is to submit the budget for approval at the annual session of the legislature, which is scheduled to open Monday.

Jiang said the defense budget is raised to further increase the salaries and allowances for servicemen and army retirees, so as to ensure their income is lifted together with economic and social development.

More money will be spent to improve the drilling and living conditions of the armed forces, he said.

The increased part will also be used to upgrade military equipment and improve the troops' capability of fighting a defensive war based on information technologies, he added.

The compensatory rise is designed to reinforce the originally weak basis of military defense, said Liao Xilong, director of the General Logistics Department of the People's Liberation Army.

"It will help offset the impact of price hike and improve the food for soldiers, as intensive military drills demand vigorous energy and strong body," said Liao, also a member of the Central Military Commission.

Training on the commanding capacity of senior officers, cooperation among different branches of the army, new equipment and special skills, especially combat capability under complicated electromagnetic environment, can also be strengthened with sufficient fund support, he said.

Jiang noted that China's military spending remains a low level compared with some other countries, especially the big powers, either in the sense of total sum or the ratio against their GDP ( gross domestic product) and total fiscal expenditure.

Taking the year 2005 as an example, China's military expenditure stood at about 30.6 billion U.S. dollars, only 6.19 percent of the U.S. military spending, 52.59 percent of Britain's, 71.45 percent of France's and 67.52 percent of Japan's, said Jiang while answering the question from an NHK reporter.

China's military expenditure in 2005 accounted for 1.35 percent of its GDP, the lowest compared with 4.03 percent in the United States, 2.71 percent in Britain and 1.93 percent in France.

In terms of proportion of military spending in fiscal expenditure, China reported 7.3 percent in 2005, compared with 20. 04 percent in the United States, 11.41 percent in France and 9.2 percent in Germany.

Jiang also stressed that China will stay in the road of peace and development and adhere to a defensive policy in military building.

"China's national defense is aimed to maintain the country's security and unity and to guarantee the realization of a moderately well-off society," he said.

"China won't pose a threat to any country, as it does not intend nor has the capacity to seek arms races against other countries," he added.

China had previously protested a Japanese Party official's irresponsible remarks over China's increasing military capacity.

In late February, Shoichi Nakagawa, policy chief of Prime Minister Shinzo Abe's ruling Liberal Democratic Party (LDP), said China could bring Japan under its control as "another Chinese province" in the future, given China's increasing military capabilities.

"It is natural for China to maintain a certain amount of defense power, as it is a sovereign state with long borders on land and in sea, and it gives no cause for criticism," Qin Gang, spokesman for the Chinese Foreign Ministry, said at a press conference.

At the same time, Qin also countered attacks from the United States on China's arms build-up, reiterating that China adheres to the road of peaceful development.

The United States has repeatedly said it does not believe China 's figures and doubts that China has spent more than what is reflected in the budget.

China has shown full sincerity in response to international concerns by enhancing transparency, as revealed by a white paper on national defense issued last December, said Fang Tingyu, a member of the National Committee of the Chinese People's Political Consultative Conference (CPPCC), which started its annual session here Saturday.

The white paper, for the first time, expounded defense expenditure in an independent chapter and explained in detail the composition, increase and use of the expenses.

According to the white paper, from 1979 to 1989, China's defense expenditure actually registered an average annual decrease of 5.83 percent, given the 7.49 percent average annual increase of the consumer price index in the same period.

In recent years, China has gradually increased its defense expenditure on the basis of its economic development. "This year's rise is also a moderate one in step with China's economic development," Liao Xilong said.

According to the white paper, in the 1980s, China began to shift the focus of its work to economic development. It was decided then that national defense should be both subordinated to and serve the country's overall economic development.

"As a result, national defense received a low input, and was kept in a state of self-preservation," the white paper said.

Liao said that China, now still in the initial stage of socialism, will put priority to the issues on how to eliminate poverty, develop economy and improve educational and medical services for the public atop government agenda.

"Under such circumstances, it's impossible for China to raise military spending by a large scale," he said.

Yao Yunzhu, an NPC deputy, said what is important is not the rise of military spending, but the purposes for which the increased part is used.

"All facts prove that China's increased military budget is used to enhance its defense capacity," Yao said, adding that it echoes the persistent stance China takes in following a defensive policy on military building and opposing hegemony and arms expansion.