Although the Chinese are said to be atheists, many of them acted as if they were not yesterday.
Instead of visiting relatives and friends as they often do during Spring Festival, many stayed at home to clean rooms, burn joss sticks, paste special pictures on doors and prepare dumplings for dinner.
The reason: to greet the "God of Wealth".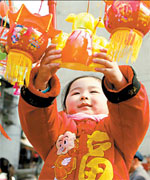 A girl selects lanterns at a market in Huaibei, Anhui Province, yesterday to prepare for the Lantern Festival, which marks the end of Spring Festival celebrations on the 15th day of the Lunar New Year. Xinhua

Also named Po Woo, the fifth day of the Chinese Lunar New Year is said to be a day to welcome the God of Wealth called Zhao Gongming.

Legend says that the soul of Zhao, a marshal during the Shang Dynasty (16th-11th century BC), was empowered to bestow good fortune. Thus, he became the god to which fortune-seeking Chinese give veneration and offer sacrifices.

"It has become a habit for my family to follow all these rituals on this special day," said 53-year-old Beijing resident Du Shufen, who was setting off fireworks with her family in front of her apartment building. "Everyone wants to be lucky and get rich in the New Year."

She said that according to the custom, no one visits families or friends, but instead stay home to wait for the god. People usually have dumplings on this special day because dumplings look like gold ingots - the money used in ancient China.

But sometimes people don't get lucky. Local media in Shanghai reported that a family was burned early yesterday morning in a fire caused by firecrackers.

The report said two men used firecrackers to greet the "God of Wealth", but instead the sparks ignited the satellite antenna at a family's balcony and then burned the whole room. No injuries were reported.

But fireworks did kill a 25-year-old man on the eve of the Lunar New Year in Beijing. The city's health bureau said the man was seriously wounded in the head and died in hospital on Sunday morning.

In addition, Beijing also reported some other 124 injuries and 114 fire cases caused by fireworks on the New Year's Eve.

To prevent such accidents, the city's office in charge of fireworks sent about 250,000 police officers to patrol in the capital last night, and ordered firefighters and first-aid personnel to stay on duty.

But not everyone is having a traditional festival. Local media reports that many single young professionals in Beijing are matchmaking during the holiday.

The Beijing Times said over 2,000 people took part in a matchmaking party held in Ditan Park (the Temple of Earth) to look for a lifelong partner.

According to the format of 8-minute dating, participants were divided into three groups according to their ages. They were required to introduce themselves, and then to perform in various games.

The daily event, which will end on Saturday, welcomes single people above 18 years old who take love seriously and hold a college degree or above, the report said.

At the same time, some others are having an electronic festival. China's top two telecommunications operators estimate that Chinese people will send around 14 billion festival text messages during the 7-day holiday more than 30 for each of the 460 million mobile phone subscribers.

(China Daily 02/23/2007 page1)