Related: China vows no let-up in graft scandal probe
The top leader of China's financial hub Shanghai was dismissed yesterday for alleged corruption, the highest official to be brought down in more than a decade during the country's intensive anti-graft campaign.
Chen Liangyu, Shanghai secretary of the Communist Party of China (CPC), also had his membership of the Party's powerful Political Bureau and Central Committee suspended, Xinhua News Agency said.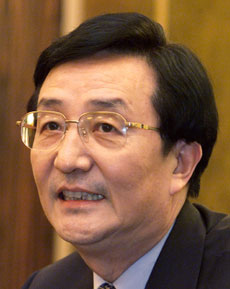 Chen Liangyu holds a news conference in Shanghai in this February 27, 2002 file photo. Chen has been sacked for his involvement in a social security fund scandal. [Reuters]

Citing a CPC Politburo decision on Sunday, Xinhua said Chen, 59, was "involved in the misuse of Shanghai's social security funds."

The report said the CPC Central Commission for Discipline Inspection is investigating Chen's case.

Shanghai Mayor Han Zheng was appointed acting Party chief by the CPC Central Committee.

Xinhua said the Politburo met on Sunday to discuss a preliminary report on the investigation into Chen presented by the Central Commission for Discipline Inspection.

According to the preliminary investigation, Chen also committed other serious discipline violations, "such as seeking economic interests for illegal entrepreneurs, giving unprincipled protection to his staff who severely violated laws and discipline, and pursuing abnormal benefits for family members by taking advantage of his official posts."

"This has created an odious political impact," the Politburo reportedly said.

Chen's dismissal was hailed as an example of the Party's determination to build a clean Party and to fight corruption.

"Whenever an official violates discipline and laws, regardless of name or rank, he or she will be severely punished," Xinhua quoted the Politburo meeting as saying.

Chen's disgrace came amid a widening probe into Shanghai's handling of pension fund investments.

On August 11, Zhu Junyi, director of the Shanghai Municipal Bureau of Labour and Social Security was sacked for taking bribes and siphoning money from social security funds.

The scandal, which reportedly involved at least one third of a 10 billion yuan (US$1.2 billion) city pension fund, has led to the removal of Qin Yu, former head of Shanghai's Baoshan District.

Earlier Xinhua reports said hundreds of investigators sent by the central government are stationed in Shanghai to probe the pension fund scandal.

On August 15 this year, Chen himself pledged to combat corruption at a meeting of senior city Party officials following Zhu's dismissal.

"This is a period prone to corruption," Chen was quoted as saying by the Liberation Daily. "We must remain ever alert in the struggle against graft."