Yanjin County is located on the Yunnan-Guizhou Plateau and has a population of 350,000.
The death toll stood at 20 Saturday night and two more fatalities were confirmed early on Sunday, said Tian. "One was a driver whose car was hit by a rock in the mud-rock flow following the quake and the other a newly confirmed victim from Zhonghe village."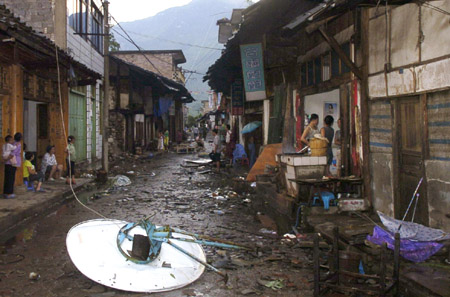 A street is seen in Yanjin County, southwest China's Yunnan Province, which was hit by an earthquake Saturday, July 22, 2006. The quake measuring 5.1 on the Richter Scale hit the county at 9:10 a.m, leaving at least 22 dead and another 106 injured. A lot of local residences collapsed during the quake. [Xinhua]
Thanks to emergency repairs work overnight, power supply has been resumed in most of the quake-hit villages, paving the way for further rescue operation, Tian said.
By 3:00 a.m., railway workers have finished repairing most damaged sections of an artery railway that links Yunnan Province with other southwestern provinces of Guizhou and Sichuan as well as Chongqing Municipality.
"All the three trains that were stranded in the province yesterday left early on Sunday, and we expect to complete all the repair work within today," said Liu Zhenfang, vice director of the Kunming Railway Bureau.
Earlier resumption of the train service will facilitate the inflow of relief materials, he said.
Saturday's earthquake toppled more than 1,400 houses and damaged 38,000 others in 13 townships of the county as most houses in Yanjin are built on hillside and therefore vulnerable to earthquakes.
In Dousha Township, the worst-hit area, a large number of wooden-structured houses have been ruined. A huge crevice was seen on the wall of a school building.
"I've never imagined such a terrible scene -- so many houses just disappeared all at once," said Jiang Guanzhi, an 81-year-old woman.
Rescuers helped local residents evacuate to safer places. Many people gathered together near a primary school Saturday night, with ample supply of instant noodles and mineral water.
Local governments launched emergency rescue operations immediately after the earthquake occurred, sending money, 500 tents, 1,000 quilts and 500 blankets to the quake-ravaged areas.
Several hundred workers have joined in the rescue operations.
Traffic, power supply and telecommunications had been basically restored by Saturday evening.