Quake death toll rises to 22
(Xinhua/chinadaily.com.cn)
Updated: 2006-07-23 08:21
Twenty-two people are confirmed dead in an earthquake that jolted southwest China's Yunnan Province on Saturday, the local government said Sunday.
The earthquake measuring 5.1 on the Richter Scale also injured 106 people in the city of Zhaotong, eight of whom seriously, said Tian Rongping, a spokesman with the city government.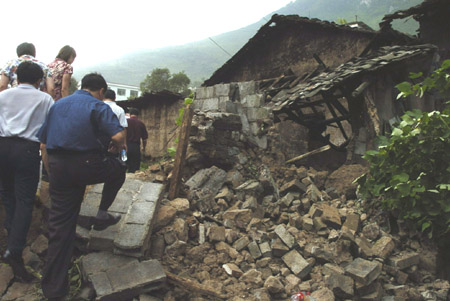 People walk on ruins of damaged house in Yanjin County, southwest China's Yunnan Province, which was hit by an earthquake Saturday, July 22, 2006. The quake measuring 5.1 on the Richter Scale hit the county at 9:10 a.m, leaving at least 22 dead and another 106 injured. A lot of local residences collapsed during the quake. [Xinhua]
The local health authorities have sent at least 300 medical workers to the quake-hit areas to provide first-aid to the injured, said Chen Hua, head of the city's health bureau.
He said timely treatment has brought all the eight seriously injured people out of danger.
Eight-year-old Tang Jianhong was playing outside when she was hit by a falling rock and was badly injured on the waist, legs and belly. She was immediately sent to the nearest hospital in Huanggecao New District of Yanjin County.
Tang's doctor said she has responded to emergency treatment and is now in stable condition.
To prevent epidemics in the disaster-hit areas, local health authorities have sent disease control specialists to sterilize every corner of the local communities.
The quake was reported at 9:10 a.m. Saturday with the epicenter located in Yanjin County of Zhaotong, in the northern part of Yunnan Province.