Dell looks at China as source of innovation
Updated: 2013-12-23 15:38
Chinadaily.com.cn interviewed Amit Midha (President, Dell Asia Pacific and Japan Region) on Dec 19, 2013, in Xiamen, Fujian province. Midha talked about Dell's strategy.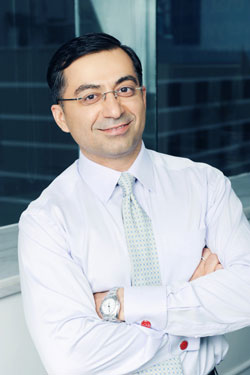 Amit Midha, president of Dell Asia Pacific and Japan Region
"Our strategy and our commitment to China as well as customers all remain the same. We can do more under the new construct. In terms of Dell in China, we have about 8,000 team members; we buy more than $20 billion of products here for export (every year); we are growing in China. At the same time, not only financial success is important, our operations here play a very critical role. Xiamen is now globally one of the best quality producing manufacturing sites, so is Chengdu, where we recently opened a manufacturing location," Midha said.
"In addition, we continue to contribute to local communities – disaster recovery, migrant children education, and pediatric cancer prevention. We're excited to be part of that. Volunteerism is very high and employees remain very committed. We're excited what Dell China is accomplishing together with our team members across the country."
Chinadaily.com.cn: What is Dell's strategy for China?
Midha: In terms of China, I believe that our strategy will continue to be the same, and our commitment to China remains as strong as ever. China is the No 2 market for us. We are committed to expanding and serving our customers. We're committed to bringing more global products, services and solutions here. But at the same time, China is also playing a different role. Now we're developing products in China and selling it across the world.
In the past, China was only for manufacturing, R&D, and sales operations. Now we're looking at China as a source of innovation. We're doing software development and hardware design here, and we also have services headquartered here in Xiamen, which also plays a big role.
Dell has a vision to make sure we can provide customers with end-to-end solutions based on the scalable architecture. That vision doesn't change, and that vision is our global vision everywhere. We want to make sure we can help customers transform, connect, get data information from their systems, and protect their information, and we remain committed to that vision. So again, the vision is the same, our technology, footprint, or technology components that help enable this vision continues to progress.
Chinadaily.com.cn: Dell's Chengdu operations center has opened. Will that affect the production volume from the Xiamen side?
Midha: Chengdu operations is a great example of the country's winning (China's winning). The total volume in China is increasing. So I think the piece you look at is not Chengdu or Xiamen, but China gets more volume. Chengdu and Xiamen focus on their specific products and supply chain. So I think both sides will win.