Cars on US-EU free-trade talks short list
Updated: 2013-12-23 14:33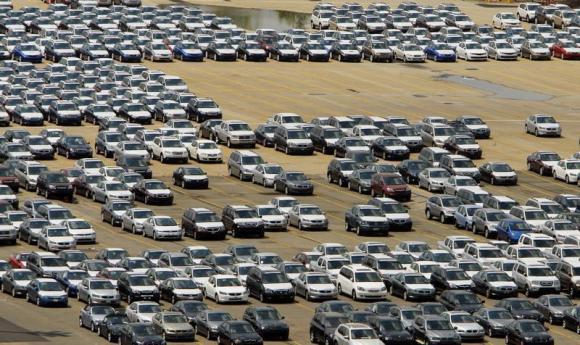 New cars sit in the lot at the Boston Autoport, which handles automobile import, processing and distribution for approximately 50,000 cars per year, in Boston, Massachusetts July 1, 2008. [Photo/Agencies] 
Cars, cosmetics, information technology and medicines are among the industries earmarked for potential gains in trade talks between the European Union and the United States, negotiators said on Friday.
The world's largest free-trade deal would seek to bridge regional differences in rules governing everything from seatbelts to factory site inspections and stop manufacturers having to double up on compliance.
Negotiators have not yet started on the fine print of the proposed deal, which would encompass nearly half the world's economic output, but have begun a short list of sectors which seem particularly ripe for common ground in terms of regulation.
So far this includes autos, pharmaceuticals, cosmetics, medical devices, textiles, chemicals and information and communications technology, negotiators said.
"These are sectors (where) both sides have indicated an interest in moving forward in terms of specific sectoral commitments," Ignacio Garcia Bercero, the EU's chief negotiator, told reporters as the third round of talks wound up in Washington.
Economists estimate an ambitious trade accord could boost economic output in both the EU and the United States by more than $100 billion a year, with the bulk of gains from cutting costs imposed by bureaucracy and regulation.
But there are many thorny issues to resolve, including agriculture, food standards, consumer protection, data privacy and environmental concerns.
Negotiators, who hope to finalize the Transatlantic Trade and Investment Partnership (TTIP) by the end of 2014, have stressed the deal is not about deregulation, but are keen to ease the burden on exporters, who must often comply with two sets of rules on different sides of the Atlantic.
"In certain areas it may well be that the two sides have the same level of protection, but different regulatory ways of achieving that," said US chief negotiator Dan Mullaney.
"In other areas the focus may be more on whether you can ... arrive at a point where a product can be tested just once and not twice before it comes into the market," he said.
Automakers told the negotiators that their industry - the largest manufacturing and exporting sector in their respective regions - had a big stake in the outcome of the talks.