GM names auto industry's first woman CEO
Updated: 2013-12-11 11:33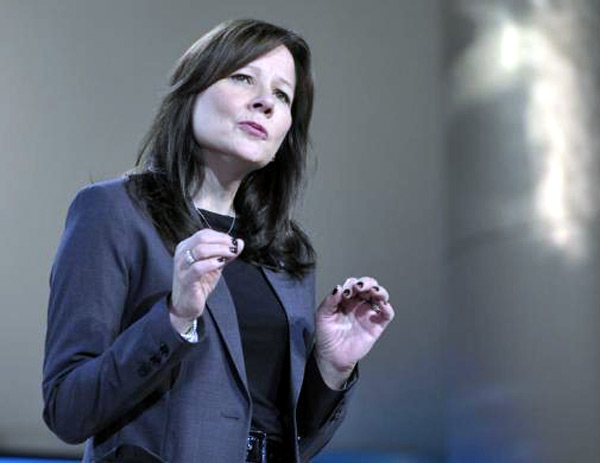 General Motors Co has named Mary Barra, the company's global product development chief, as its new CEO, marking the first time a major US automaker has been led by a woman. [Photo / Agencies]
General Motors Co CEO Dan Akerson will step down next month and be replaced by GM "lifer" and global product chief Mary Barra, a sign that the development of new vehicles will be the paramount focus of the company that emerged from bankruptcy four years ago.
The appointment of Barra, 51, is at once groundbreaking -- she will be the first woman to lead a global automaker -- and yet also very traditional. Her father is a long-time GM employee and Barra has spent her entire 33-year career at the No 1 US automaker.
Barra's ascension also marks the re-emergence of an engineer at the helm of GM, a company long dominated by financial executives who were sometimes criticized by investors as lacking experience on the product side of the business.
With her engineering background, plant experience, time spent running human resources and her current job in charge of product development, purchasing and suppliers, Barra has the expertise needed to help continue the company's turnaround, analysts and investors said. The big question is whether someone so steeped in GM tradition can continue to drive the cultural transformation Akerson started.
"The promotion of Barra as CEO indicates there is more to come in the evolution of the company and may attract some new longer-term investors who were skeptical about an over finance-dominated executive suite," Barclays analyst Brian Johnson said.
GM said on Tuesday that Akerson, who is also the chairman, will leave on January 15. He had planned to step down in mid- to late-2014, but brought that forward after learning about two months ago that his wife had an advanced stage of cancer.
Barra will be GM's fifth CEO in less than five years since Rick Wagoner was forced out by the Obama administration in March 2009 as the company headed towards its bankruptcy filing. She is currently an executive vice president.
The Michigan native will be GM's fifth female director. Theodore Solso, 66, will succeed Akerson, 65, as chairman.
Before the new CEO was named, some analysts and investors were concerned about whether Barra and the three other internal candidates had enough experience for the job. GM might be trying to address that by naming Solso to the chairman role.
Akerson said Barra had "brought order to chaos" in the global product development process. He said her task would be to finish the job he started: further raising profits by making product development more efficient, bolstering operations in Asia outside China and building on the small progress made in money-losing Europe.
'Car gal'
In a town hall meeting with employees, Akerson called Barra a "car gal," playing on the "car guy" term used heavily in the industry to describe male executives who know vehicles well.
He said Barra was chosen for her talent, not gender, and that the board had not looked at any outside candidates. He said Barra's selection was unanimous and it was the board's decision to split the chairman and CEO jobs, a move he supported.