Expanding network as Volvo gears up for local production
Updated: 2013-11-04 08:11
Volvo's dealer network will soon serve more small Chinese cities and the carmaker will strive to help dealers quickly earn back their investment, said Fu Qiang, president and CEO of Volvo China Sales Co.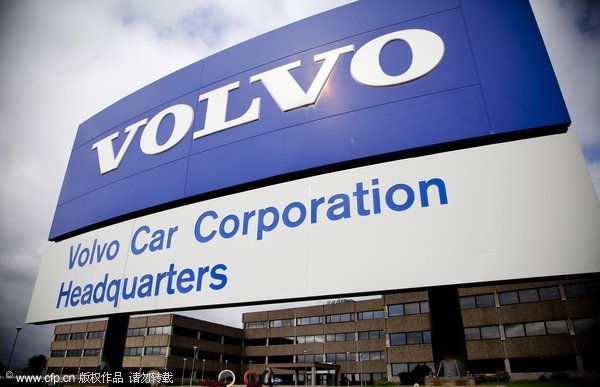 A sign stands on display outside the headquarters of Volvo Cars in Gothenburg, Sweden, on Wednesday, Sept. 4, 2013. [Photo/CFP]
Fu made the remarks as the automaker announced its new sales strategy on Oct 31 in Beijing.
The plan calls for a diverse range of dealers, cost efficiency in operations and an improved dealer image through new approaches to cooperation among the manufacturer, dealers and investors, said Fu.
On the same day, a Scandinavian-style "Volvo retail experience" showroom opened in Beijing. The new outlet also helps customers update their car-borne software systems, said the company.
In addition to Beijing, there are other such showrooms in Shanghai and Fuzhou, capital of Fujian province.
Volvo's move to expand its dealer network follows approval of its localization plan by the National Development and Reform Commission in August.
According to the plan, Volvo will build a manufacturing plant in Daqing in Heilonjiang province, an engine plant in Zhangjiakou, Hebei province, an R&D center in Shanghai and another vehicle manufacturing facility in Chengdu, Sichuan province.
Both the Daqing and Zhangjiakou plants will be operated by a joint venture between Volvo Auto Group and Zhejiang Geely Holding Group. The Chengdu plant is affiliated with Zhejiang Haoqing Car Making Factory, which is wholly owned by Geely Group.
Volvo Group has a 30 percent share in its joint venture with Geely formed after the Chinese automaker acquired Volvo Car Co in 2010.
The Chengdu plant that opened on Aug 28 is Volvo's first production facility outside Europe. The first locally made model in Chengdu will be the S60L scheduled to go on sale at the end of this year.
The Daqing plant will start test production at the end of this year, and the Zhangjiakou factory will begin production later this year to provide engines for the two car plants in China.
Volvo's sales in the country in the first three quarters surpassed the full-year figure for 2012, a year-on-year increase of 41.3 percent, Fu said.
China is now Volvo's second-largest market across the globe, but Fu said after the locally made S60L hits the market at the end of the year, it is likely to become the carmaker's largest.