VW: Full lineup for Sports Car Champions Festival
Updated: 2012-10-09 13:36
German icon also owns Audi, Bentley, Bugatti, Lamborghini and Porsche
German carmaker Volkswagen Group's six brands - Audi, Bentley, Bugatti, Lamborghini, Porsche and Volkswagen - will join the first Sports Car Champions Festival in China in November to inspire more local customers to reach for a lifestyle related to sports cars and further stimulate demand in the growing segment.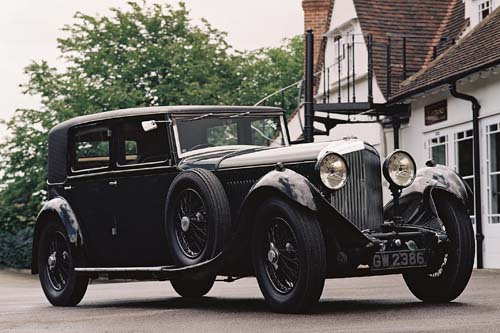 An antique 1930 8-liter Bentley will be on display along with a number of other legendary sports models. [Photo / Provided to China Daily]
The event will begin on Nov 9 at the Shanghai Audi International Circuit, the only Formula 1 venue in China, to "showcase the speed and spirit of sports cars in a bold new way", said Markus Nels, director of Sports Car Project China at Volkswagen Group.
A highlight of the festival will be the finales of four races among the same make and model of sports cars: The Porsche Carrera Cup Asia, the Sirocco R Cup, the Lamborghini Blancpain Super Trofeo Championship and the Audi R8 LMS Cup.
Vis
ito
rs to the festival can also tour booths with super cars on display, enjoy a classic car parade and compete for a trophy awarded to ordinary drivers.
"Never before have six of the world's most exciting car brands join forces to promote sports car culture here in China in such a format," Nels said.
"We want to play an active role in developing the sports car culture in China.
"Owning a sports car is one thing, enjoying sports cars in a way other people around the world enjoy the cars is a different thing," Nels said. "This is what we want to showcase."
He added that the group set up the department for sports car projects a year ago, with the "core target to support sports car brands and grow the market".
"We want to be a door that opens to more sales and enthusiasm from more Chinese in a segment that has had higher-than-average growth in the past five or six years."
"Our six brands want to participate in that growth like everybody else," he said.
Prior to the festival, a classic car rally will be held from October 7 to 13 when several classic models of Volkswagen Group shipped from Europe will drive from Beijing to Shanghai. The antique and classic cars include a 1930 8-liter Bentley, a Lamborghini 400 GT, a 1975 2.7-liter Porsche 911, a 1956 Volkswagen Beetle Miglia Mile and a 1972 Beetle Salzburg Kfer.
The company said its new China chief Jochem Heizmann may join the rally and drive the 1956 Beetle.
Nels added that it's likely China will be open to the import of classic cars as regulations change in the future.
hantianyang@chinadaily.com.cn