Plant research finds solutions for Three Gorges area ecology
Updated: 2012-02-08 10:56
By Luo Wangshu (China Daily)
| | | | | | | | | | | |
| --- | --- | --- | --- | --- | --- | --- | --- | --- | --- | --- |
|   | | Comments() | | Print | | Mail | | Large Medium  Small | 分享按钮 | 0 |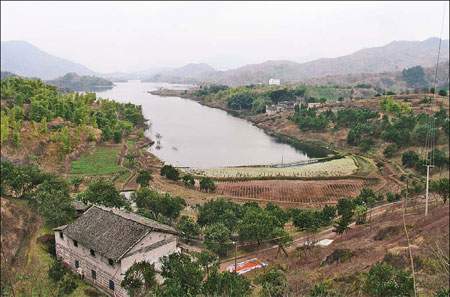 Above, water in the Three Gorges Reservoir area, Kaixian county, in Chongqing, rises last month. Below, the water level hits a low point in Kaixian county in March 2010. The depth of the water in the Three Gorges Reservoir area fluctuates up to 30 meters, depending on the season. Experts say these fluctuations have changed the ecology of the banks, killing much of the plantlife. [Photo / China Daily] 
QUKOU, Chongqing - Researchers have successfully completed experiments with the vegetation along the banks of the Three Gorges Reservoir area to restore ecological balance, experts said.
"We tested what would be appropriate species to import to the banks for the new environment," said Wang Yihao, a researcher at the Chongqing Forestry Academy. "The survival of the imported plants shows we can begin introducing them to the reservoir area."
"In 2010, we planted a few saplings in Qukou township. They were river birch (Betula nigra) and water tupelo (Nyssa aquatica), which are common in Tennessee and Maryland in the United States," said Wang.
"Most of them survived throughout the two years of the experiment."
According to Wang, forestry experts from the Chongqing academy visited the US in 2009 to observe the species in their habitat, and they worked with US experts to find suitable plants.
"The very first step is to find a species that can survive underwater and to plant it locally," he said.
"The reservoir has immersed large tracts of land," said Zeng Bo, an ecology professor at Southwest University in Chongqing who has been working on the project for 12 years. "In summer, the water is 145 meters, in winter it's 175 meters."
"The depth fluctuations have changed the environment," he said.
"Before the Three Gorges Dam Project, many plants along the bank lived above the waterline, but now they are submerged when the water rises," Zeng said.
"The different water levels kill many plants." Native plants were suddenly unsuited to the new environment. "Plants died, causing a series of environmental problems."
Zeng and his colleagues from the Key Laboratory of the Three Gorges Reservoir Region's Eco-Environment bred 25 species that can survive in the environment.
"We've solved the problem in the lab, and the next step is to take the technology out of the lab and spread it in every township in the Three Gorges area," said Zeng.
Around Qukou township in southwest Chongqing, many tributaries of the Yangtze River are thick with green algae and give off a bad odor.
"It's a sign of pollution," said Zeng. But change may be on the way.
"This area is better since the arrival of the research team," said 32-year-old Ran Cheng, a local villager, standing in front of the experimental field and pointing to the other side of the river. "The rest of the water is dirty."
"The water used to be clean and we could drink it directly," said Ran, who has lived here since birth.
So far, there has been no response from the authorities in charge of the experiment.