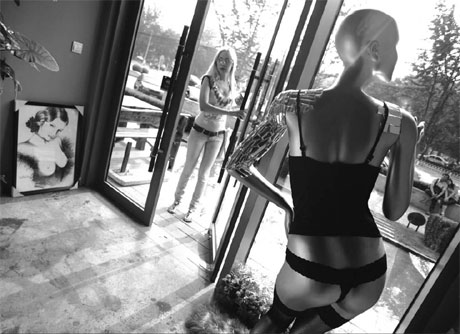 A customer enters a sex shop in Beijing. [Cui Meng / for China Daily]

Quiet but steady change in attitude takes place in the Middle Kingdom towards adult-related products
BEIJING - It is almost 11 pm and a side street in Beijing is close to being deserted. The only remaining illumination comes from street lamps and dimly lit front doors of "adult shops" or "sex shops".
A woman stands in front of one, hesitates for a minute or so, turns around as though to leave but eventually turns back and goes inside.
Indoors, she asks for the "article" she wants, saying little and not even haggling over the price.
The woman, who is in her mid-30s, refuses to say what she bought and declines to disclose her name or any personal information except this: "I need to add a little flavor to the life between my husband and me." Then she quickly walks out and disappears into the dark street.
She is not alone and is indeed part of a growing group, women who are venturing into these shops to buy sex toys and other adult products.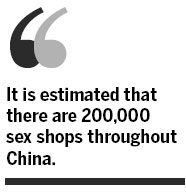 And the proportion of female customers has been growing, said Li Fang, CEO of Juse, one of the biggest sex shop chains in China, with more than 500 stores nationwide and an online outlet.
"We now have equal number of male and female purchasers in Beijing. Our sales have kept increasing, with an annual increase of 30 percent over the past decade."
It is estimated that there are 200,000 sex shops throughout China chalking up annual sales, excluding oral aphrodisiacs and contraceptives, of at least 10 billion yuan ($1.47 billion).
Over the past five years, thousands of online businesses have opened, with many sex shops adding online outlets to their portfolio, said Lin Degang, a council member of China Sexology Association and owner of sex product chain Chunshuitang, based in Beijing.
Wen Jingfeng, who opened the mainland's first adult shop 17 years ago and has been operating his Adam & Eve Health Center chain in Beijing since then, said that without any online outlet, his sales have declined slightly over the past five years.
One reason for the boom is that more Chinese are beginning to treat sex products as normal and natural. "Several years ago, people would feel very embarrassed to come into our shop and would even leave their change after buying something as they wanted to get out quickly," Wen said.
"But things have changed, many customers will now bargain with us over the price."
Li said more customers are starting to "have conversations with our sales staff", but most still avoid talking.
"Women actually spend more than men at our shop," said Yang Zi, who has managed a high-end sex shop, Tuao, in Beijing for more than a year. Her best sellers are vibrators and S&M sex toys.
Wen said: "About 60 percent of the products sold in my shops are used by women, but in many cases men come to buy for their partners." At Lin Degang's shop, this proportion is even higher.
Li Fang said that although her business is growing, it is always hard to recruit and keep staff because the job is related to sex, which is still regarded as taboo in China.
Promotion is another problem. "We cannot advertise on TV, in newspapers or in most other media," she said. "It is not officially listed in media regulations, but we face underlying rules. The government is also trying to eliminate online 'vulgar culture' and has obviously categorized us as this."
Driving this is the apparently more open attitude women have towards sex. Surveys conducted by Renmin University of China in Beijing in 2000 and 2006 showed a dramatic change in attitudes towards sexual behavior, including aspects such as love-making positions and details about their partners.
Du Juan, who was then a PhD student at the university's Institute for Research on Sexuality and Gender Research, conducted the survey, which involved more than 6,000 participants.
"The change among Chinese women in attitude toward sex and sex products means they have more sexual power and awareness. They have the ability to control their own sex lives," Du said.
A tourist guide in her early 30s, who was too embarrassed to give her name, is typical of the new influx of female customers. She went into a Tuao store, saying she had never bought a sex toy before.
"There is a small sex shop near my apartment but I feel embarrassed to enter it. I only went a few times to buy condoms with my boyfriend," she said.
"This shop is not an 'obvious' sex shop, so I thought I would come in and have a look."
Chen Fang, a professor of Women's Studies at China Women's University in Beijing, said it is not surprising that more Chinese women are becoming more open and independent about their sex lives.
"It means many women are not putting themselves in a passive position and allowing themselves to be judged. They have a stronger consciousness that they have equal sexual rights to men. Consequently, they are more able to make their own decisions about childbearing, relationships and life," she said.
"But there is also a negative effect. Young girls may have incorrect attitudes towards sex and some behavior could damage their health."
Sex shop proprietors said their biggest consumer group is people in their 30s and 40s.
"They have more purchasing power and a more mature attitude toward sex toys. People from this age group are likely to have a lot of career pressure and low levels of sexual satisfaction," Li Fang said.
An online survey in March, jointly conducted by the Shanghai Academy of Social Sciences and the China Population Communication Center, showed that more than a quarter of husbands and 52 percent of wives considered their sex lives "unsatisfactory"; about a third of middle-aged couples described their marriages as "facing crisis".