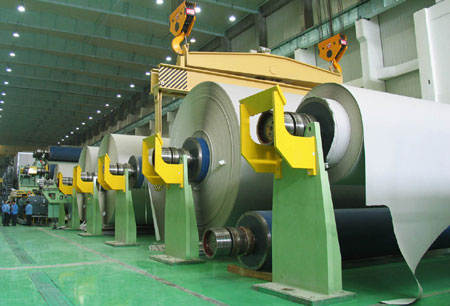 A paper mill in Ningbo, Zhejiang province. ZHANG HEPING / FOR CHINA DAILY
BEIJING - Equities in China's paper manufacturing industry are poised to gain in the near term amid market expectations of a stronger yuan triggered by the steady recovery of exports, analysts said.
"We estimate that papermaking companies' stocks are likely to gain by about 10 percent in the coming weeks amid expectations of the yuan's revaluation," said Lu Yu, an analyst at Nanjing Securities.
A stronger yuan will help reduce the production costs of paper manufacturers that rely heavily on imported wastepaper from the United States and the European Union, Lu said.
According to customs figures, China imported a total of 2.16 million tons of wastepaper worth $390 million in January, a year-on-year increase of 43.1 percent. The US remained the biggest exporter of wastepaper to China, accounting for 43.8 percent of total imports.
JP Morgan forecast in its recent report that the yuan is expected to resume gradual appreciation sometime in the second quarter and reach 6.5 per dollar by the end of this year with China's exports surging 45.7 percent year-on-year to $94.5 billion in February.
Buoyed by these expectations, Jincheng Paper Co Ltd on Wednesday led the rise in the papermaking sector by surging 6.02 percent to close at 5.99 yuan.
Meanwhile, the share price of Shandong Huatai Paper Co Ltd also jumped 5.45 percent to 17.4 yuan.
But Lu said market expectations that the yuan will be revalued are likely to produce mixed results because a stronger currency may hurt the interests of paper exporters who have benefited from a recovery in exports.
Related readings:


 US to impose anti-dumping duties on Chinese salts, coated paper


 Rising waste paper imports trigger environmental concerns in China


 Lack of loo paper worries residents


 China imposes tariffs on coated art paper
"A stronger yuan may be good news for papermakers focusing on the domestic market. But it will definitely have a negative impact on paper exporters, especially manufacturers of industrial-packaging paper, who rank among the biggest beneficiaries of the export recovery," Lu said.
Lu noted that it was still too early to forecast the long-term prospects of the paper manufacturing industry because it depends on whether the country's overall exports can be sustained.
"The export figures in the second quarter may not be as good as we expect although papermaking companies have witnessed growth in the number of near-term overseas orders, while the country's exports show signs of picking up," he said.
The paper manufacturing industry is also facing anti-dumping and countervailing duties from the US and the European Union which analysts said may cast a shadow on the industry's long-term prospects.