Regulator asks banks to better manage their loan, credit risks
BEIJING: City banks may introduce more strategic investors or raise funds from the capital markets through initial public offerings to better manage their loan concentration and credit risks, sources familiar with the matter told China Daily on Monday.
The moves follow a recent directive by the China Banking Regulatory Commission on the need for more stringent risk management by lenders, the sources said.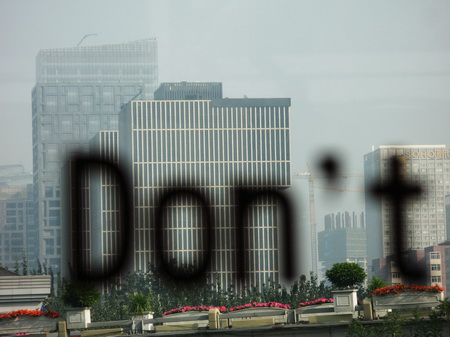 A view of the central business district in Beijing. The banking regulator has urged banks to cap their lending activities within the stipulated norms. [CFP]
Bank of Chongqing is the only lender that may launch an IPO on the mainland stock markets this year, as the Agricultural Bank of China does not have a 'fixed timetable' yet, another source familiar with the matter told China Daily.
The sources said the regulator has asked banks to stick to the existing rule of capping lending to a single client at 10 percent of the total loan balance of the lender, at 15 percent for related parties and 50 percent for the top 10 clients.
"Commercial banks improved their risk management considerably last year, but there are still some who did not meet the requirements of reducing loan concentration and credit risks," the regulator said in a notice to lenders.
Lenders have been asked to furnish their plans in this regard by the end of March so that all of them adhere to the norms by the end of the year, the sources said. They should not lend further funds to related parties before that.
The move could have a big impact on city banks and rural credit cooperatives, which are comparatively small and have potential loan concentration risks. It may not impact listed banks much as all of them adhere to the norms already, said analysts She Minhua from Haitong Securities and Zhang Jixiu from Bohai Securities.
Related readings:


 Guangdong bank aims for IPO next year - source


 Bank of China aims to issue new HK shares soon


 Agricultural Bank plows ahead

 Firms cautious about IPOs


 Emerging market IPOs turn hot investor picks
City banks are smaller lenders whose activities are mostly city or region specific and many have total assets of less than 20 billion yuan. There are around 100 city banks in the country like Bank of Shanghai.
"Many of the disbursals made by city banks are for local government projects and hence carry higher risks," Liu Jun, an analyst with Changjiang Securities, said.
The amount of loans to related parties accounts for 4.09 percent of the total loans for 12 surveyed city banks, while loans to their top 10 clients account for 41.42 percent, compared to the 0.45 percent and 26.65 percent of the 12 nationwide joint venture commercial banks, according to a study by consulting firm Unbank.info.
Industry sources said for some smaller city banks, the figures could be even higher.
"The move could speed up city banks' fund raising activities, including inviting strategic investors, merger and acquisition activities and IPOs," said Fu Lichun, an analyst with Southwest Securities.
Over 40 city banks have announced IPO plans. These include Bank of Shanghai, Bank of Jiujiang, Bank of Wenzhou and Bank of Chongqing.
"Of the four city banks, Bank of Chongqing is likely to be the only one to launch an IPO this year," the sources said.