China's top theme park developer plans to avoid direct competition with The Walt Disney Company by developing new theme parks outside major cities, and a renewed focus on the nation's culture.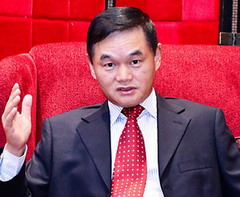 Liu Pingchun
The company, Shenzhen OCT Holding Company (OCT), plans to develop the chain of theme parks nationwide. 
"We aim to have theme parks show up in most provincial cities around China," said Liu Pingchun, board chairman of OCT, a Shenzhen Stock Exchange-listed firm.
The chairman stated the company has the advantage over foreign theme-park operators because it infuses Chinese culture into all elements of its parks.
OCT will incorporate "elements of Chinese culture into all the products offered in the parks," he said.
"Without culture, no theme park can last long," said the chairman.
Liu declined to detail either the size of the investment or the timetable for the expansion plan, except to say the investment would be "huge".
OCT, the world's eighth largest theme park operator, believes the current moves would help fend off fierce competition from international players like Disney.
OCT opened its first park, "Splendid China", in Shenzhen in 1989 and also has parks in Beijing, Shanghai and Chengdu.
Future OCT developments are expected to target smaller, provincial cities.
"We are researching and developing new models of theme parks tailored to second-tier cities in China. They will be different from our current parks in products and design," Liu said.
In addition to Splendid China, OCT created Shenzhen's "Happy Valley" theme park in 1998, with a new target audience - China's youth. 
According to OCT, 25 million people visited Happy Valley in 2008, making it China's most popular theme park.
Related readings:


 Theme park craze is poor profit logic


 Futuroscope theme park to be built in central China


 Govt buys ticket for Disney Shanghai


 Shanghai Disneyland still locked in talks
China has over 2,500 theme parks with many already facing tough times due to the global recession, according to official estimates.
However, the influx of foreign competition in the sector is expected to improve the overall quality of domestic theme parks.
"Nobody can ignore the impact from our international counterparts. Chinese players can learn from them, improving service and products," said Liu.
In November, US-based entertainment giant Walt Disney received approval from the local authorities to set up its second theme park in Shanghai. The company already has a theme park in Hong Kong.