Big cities will get first crack at 4G devices
Updated: 2013-12-06 10:28
The commercial use of Voice over Long Term Evolution technology, which supports high-definition voice and video services on mobile devices, is likely to spread rapidly in major Chinese cities in 2014 along with the rollout of fourth-generation (4G) network licenses, said Shi Lirong, chief executive officer of ZTE Corp, on Wednesday.
ZTE has conducted comprehensive testing of VoLTE service with China Mobile Ltd - the world's biggest telecom operator by subscriber numbers - over the past few months, delivering a satisfactory outcome, Shi told China Daily in Hong Kong on Thursday.
People in first-tier cities will be first in line to enjoy VoLTE services because telecom operators covet the huge data demands in these markets, where infrastructure development is also relatively sound, according to Shi.
VoLTE delivers voice and video services with data flowing within LTE - 4G networks. After the Ministry of Industry and Information Technology on Monday officially granted 4G licenses to the three biggest telecom carriers in the country, including China Mobile, China United Network Communications Group Co Ltd (China Unicom) and China Telecommunications Corp (China Telecom), the adoption of VoLTE will become a trend because it provides a distinct improvement in video call quality at a lower cost, analysts say.
South Korea's network carriers became the first VoLTE providers in the world in 2012. Hong Kong mobile carrier CSL on Thursday also announced it was launching the first VoLTE network in the city, powered by ZTE's 4G solutions. In addition, ZTE and Huawei Technologies Co Ltd, the other major phone network equipment makers in China, also provide related support to telecom carriers.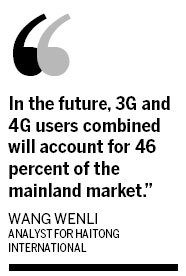 Hong Kong operators currently provide one of the best network services in the world, but it won't take long for their mainland peers to catch up. It may take just one or two years, Shi said.
China Mobile enjoys greater advantages in the 4G market than other carriers because it has heavily invested in the even faster TD-LTE network and it is also the 4G network that the government has just approved, said Wang Wenli, an analyst with Haitong International.
Since the beginning of 2013, China Mobile has been building 200,000 base stations and purchases 1 million mobile devices. About 40,000 people have tried the experimental service.
Because China Unicom and China Telecom are also expected to invest heavily in TD-LTE infrastructure developments, DTZ, a global leader in property services, should be able to share some 20 to 30 percent of their investment, Wang estimates.
Besides the rosy income from telecom operators' infrastructure input, the fifth-largest smartphone company worldwide will also benefit from smartphone sales. ZTE said earlier that it expects its 4G mobile phone sales to account for half of total smartphone sales after the issue of 4G licenses by the Chinese government.
"In the future, 3G and 4G users combined will account for 46 percent of the mainland market." Wang added that 30 percent of mobile device users have already adapted to 3G services in the country.
"China Mobile owns 20 percent of the 3G market and it has been continuously promoting the 4G service because of its underdog standing of the 3G business," Wang said, adding that the new 4G license is good news for China Mobile.