HP to enter 3D printing market by 2014
Updated: 2013-10-23 16:07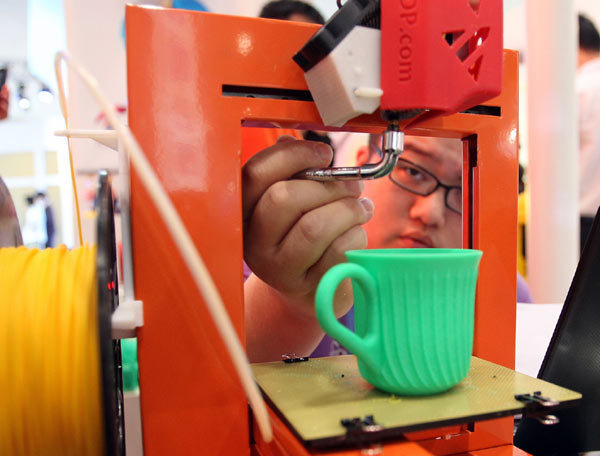 A 3D printer produces a cup at the China Beijing International Fair for Trade in Services on Wednesday. China's 3D printing industry generated revenues worth around 1 billion yuan ($163 million) in 2012, according to the Asian Manufacturing Association. [Zhang Wei / for China Daily] 
Hewlett-Packard Development Co will enter the 3D printing market by 2014, said Meg Whiteman, company CEO.
"We want to lead that business," she said, adding HP is looking at ways to address challenges in 3D printing commercialization.
Whiteman made the remarks at the Canalys Channels Forum in Bangkok on Wednesday, and did not release detailed plans for the new project.
Jin Weidong, vice-president of HP's printer business in China, said on Oct 16 that HP's decade-long technical knowledge in the inkjet printing sector will help the company develop 3D printers.
"China's 3D printing market is a huge business for every top printer manufacturer. Players with the strongest technical background and partner network will gain the most market share," according to Jin.
He refused to comment on market strategy.