Will China embrace a gold iPhone?
Updated: 2013-08-23 11:28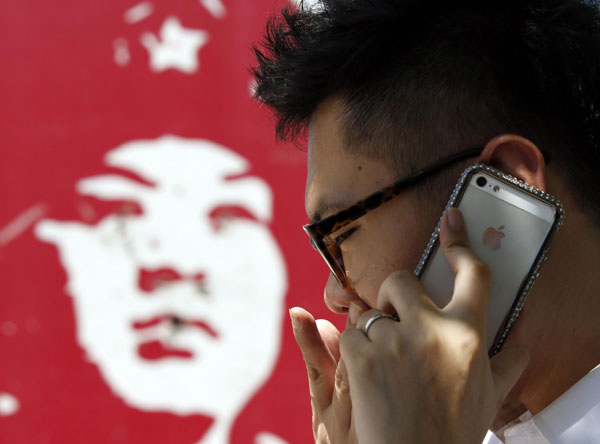 A man talks on an iPhone in Beijing, in this July 24, 2013 file photo. [Photo/Agencies]
ALL THAT GLITTERS...
But browsers at Apple's Xidan store weren't so sure - even on which gender would like it.
"Gold is for guys, I think," said 22-year old Meng Xiang, a retail buyer working in Guangzhou, who said she preferred pink and white. "I would consider buying a gold iPhone for my boyfriend."
Cui Baocheng, a 48-year-old bank manager, disagreed. "I prefer black to gold," he said. "Men usually like black. Champagne might be very ugly."
Indeed, there's a danger that by trying to broaden its appeal Apple may end up undermining what makes the iPhone so desirable in the first place.
Younger Chinese see gold as old-fashioned and tacky, and are increasingly opting for platinum - dubbed "white gold" in Chinese - for weddings and gifts.
"An iPhone with more colors means that Apple is adapting to consumers' tastes, especially a gold color that Chinese people like," said Xu Fang, a 28-year old real estate agent. "However, I think this might undermine the value and uniqueness of the brand."
Apple's sales in Greater China, its second biggest market, slumped 43 percent in April-June from the previous quarter. Its market share has almost halved since last year to below 5 percent, according to industry researcher Canalys.
The bigger problem, says Shanghai-based product designer Brandon Edwards, is that while gold added "cultural relevance on top of Apple's inherent brand value" and may attract premium users from other brands, "Apple's main issue in China and emerging markets is centred around acquiring new customers, and this doesn't hit those people at all".
Indeed, consumers in India, where Apple's market share is just over 2 percent, were just as sceptical. Mumbai phone retailer Manish Khatri said he did occasionally get customers asking for gold-colored phones, but the biggest deterrent to buying an iPhone for most of them was cost.
For others, gold is something to buy, not to slap on a mobile device.
Said Vikas Jindal, a 35-year old Delhi businessman and a regular buyer of gold: "I'll look stupid if I carry a gold-colored phone. A phone should be simple and sober."