HTC smarter at marketing
Updated: 2013-08-20 23:19
Taiwan company uses movie star to grab bigger share
Taiwan-based HTC Corp aims to become one of the top three smartphone vendors in the Chinese market in two to three years through product offerings and branding, the company's chief marketing officer said on Tuesday.
During a Beijing news conference, Ben Ho said HTC is getting "bolder" in its communications with potential customers and will invest more in marketing campaigns.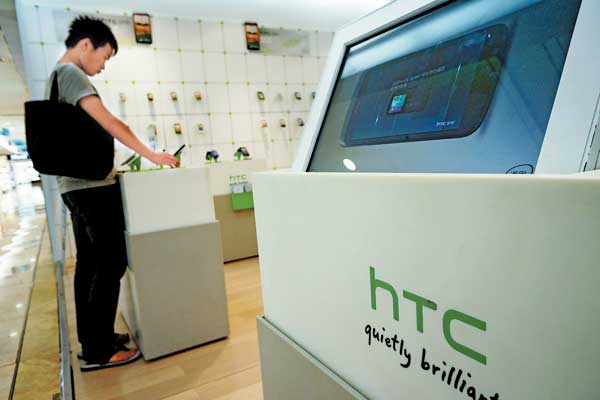 HTC Corp has invited Hollywood movie star Robert Downey Jr to be its spokesman. HTC hopes to become one of the top smartphone vendors in the Chinese market in about three years.LONG WEI / FOR CHINA DAILY
Analysts have attributed HTC's recent sliding sales to lackluster marketing and weak distribution channels.
Ho, who assumed the position earlier this year, said HTC will ditch the "Quietly Brilliant" slogan.
Instead, the company has chosen "Here's To Change" as its new slogan and invited Hollywood movie star Robert Downey Jr to be the brand endorser.
"Although HTC as a company has existed for 11 years, we started to build up our own brand (rather than being just a contract manufacturer) only five or six years ago. So we are still very young in terms of branding," said Ho.
HTC, which is experiencing slumping sales globally, is paying more attention to the mainland, the world's biggest smartphone market and a major driver for smartphone shipment.
However, having entered the segment in 2010, HTC's performance in the Chinese market has been far from outstanding.
According to Beijing-based research firm Analysys International, HTC wasn't even among the top 10 smartphone vendors in the nation.
Samsung Electronics Co Ltd led the list with an 18.6 percent market share in China in the second quarter.
Lenovo Group Ltd and Yulong Computer Telecommunication Technology Co, which produces Coolpad handsets, followed with 12.4 percent and 11.2 percent shares, respectively.
"HTC has the chance to become a top-three smartphone vendor in China and we hope to reach that goal in two to three years," Ho said.
He added that the new ads starring Downey received "quite good" market responses after they appeared online.
In addition to HTC, some mobile phone companies from the Chinese mainland, including Huawei Technologies Co and Lenovo, are also trying actively to build brands and win recognition from clients worldwide.
"Many Chinese mobile phone vendors have already been among the top companies with huge handset shipments.
"However, consumers outside the home market, especially in the mature Western markets, are still not familiar with those domestic brands," said Wang Jun, an analyst with Analysys.
A new trend for Chinese mobile phone companies to increase their market influence is to find international sports or entertainment stars to promote their products.
In January, Lenovo signed a one-year contract with National Basketball Association star Kobe Bryant, asking him to endorse its smartphones. Officials from Huawei and ZTE revealed that they are considering superstars for promotion efforts as well.
"It is unavoidable for mobile phone companies to invest heavily in marketing," said Yang Haifeng, a telecoms expert who is also chief editor of Communications World Weekly.
Huawei is becoming more aggressive in seeking customers' attention. It threw a costly product launch ceremony in London in June and ran numerous print and digital ads for its latest flagship smartphone, the Huawei Ascend P6.
Wang Weijun, China president of Huawei Device Co, a terminal branch of Huawei, said Huawei plans to invest 100 million yuan ($16.3 million) to market the Ascend P6 in China from June through September.