Winning the 'last frontier'
Updated: 2013-12-23 07:44
Consultancy says the big opportunities are not BRIC
Chinese automakers should set their eyes on emerging markets other than BRIC countries to find feasible opportunities in their globalization ambitions, said the Boston Consulting Group.
The company's recently released report said rising automotive markets other than the quartet of Brazil, India, Russia and China "offer the last great growth opportunity" in a world where established markets are stagnating and key market shares have already been claimed in BRIC countries.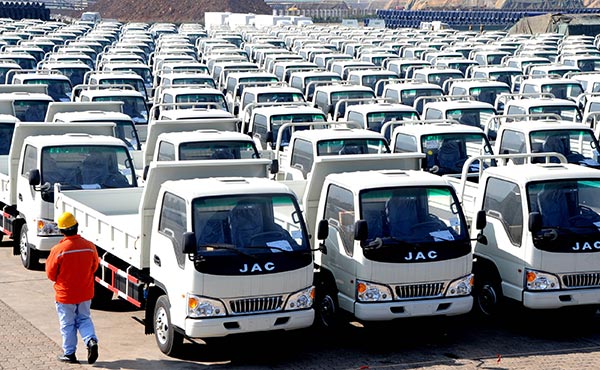 Trucks for export to Algeria await loading at Lianyungang port, Jiangsu province. North Africa is an emerging "cluster" market that also serves as a gateway to the rest of the continent, said the study. [Wang Chun / For China Daily]
BCG predicted that 88 countries it calls "beyond-BRIC markets" will generate 6 percent annual growth in sales by 2020, four times as fast as the established "Triad Markets" it defines as the United States and Canada, Europe, Japan, and Australia and New Zealand.
By 2020, the beyond-BRIC markets will account for an impressive one-fifth of global new-vehicle sales, said the report.
Companies need to take a unique approach to winning this "last frontier", said BCG experts, especially in the top 15 countries among the group led by Indonesia, South Korea, Iran and Thailand.
"None of the beyond-BRIC markets on their own can generate sales volumes comparable to that of a single BRIC market," said Nikolaus S Lang, a senior partner and coauthor of the report.
But combined, annual sales in the 15 countries are similar to China, the largest vehicle market in the world.
"Companies must think in terms of regional clusters rather than individual markets in order to seize this opportunity," said the report.
Four regional clusters
Lang and his coauthors identify four clusters of opportunity for automakers and suppliers based on an analysis of the 88 markets.
"In terms of strategies to enter new markets, the automakers should plan by clusters, not single countries," said Marco Gerrits, a Beijing-based partner at BCG who heads the firm's automotive practice in China.
Southeast Asia offers great opportunity with the markets of Indonesia, Malaysia and Thailand.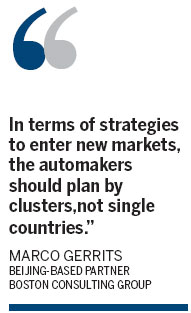 The region is expected to have annual sales of 4.6 million units by 2020, making it larger than the estimated Russian market of 4.4 million, said the BCG report.
The emerging Middle East represented by Iran, Saudi Arabia and Turkey is projected sell up to 5.8 million vehicles in 2020, overtaking Brazil's 5.2 million.
The next cluster on the list includes Argentina, Chile, and Colombia, which will possibly have a combined 2.9 million in new-vehicle sales in 2020.
North Africa - with Algeria, Egypt and Morocco - will probably contribute 1.2 million units in annual new-vehicle sales by 2020.
Although it will remain comparatively small, the region is a potential site for promising localization by automakers and the gateway to Africa, said the report.
"These regional clusters should be on the growth list of every automaker and supplier with ambitions to be a truly global player," said Thomas Dauner, a senior partner of BCG.
But each differs significantly in market size, development trends, local capabilities, localization opportunities and customer preferences.
To succeed, companies must reckon with local and regional complexities and adjust business models, according to BCG. They must identify the right product portfolios to cater to diverse customer needs, establish supply chains and production operations that span market boundaries and drive excellence throughout their dealer networks.
Best-practice cases
Based on more than 70 interviews with senior executives at leading automakers and suppliers, BCG offers several best-practice examples.
"There is always a rainy season in Southeast Asia, so vehicles with higher chassis are very popular in local markets," said Gerrits.
Another case is Fiat's success in Turkey. Like China, the country imposes higher taxes on vehicles with large engine displacements."Fiat equipped a 1.6-liter engine in its original 2.0-liter vehicles to help consumers avoid the high tax and also lower costs in the fuel price-sensitive market," said Gerrits.
The report also said few auto companies have yet managed to dominate these "last-frontier markets".
Gerrits told China Daily he found very few Chinese automakers make "beyond-BRIC markets" the focus of their overseas strategies.
"They need to think over how to survive sustainably in the markets so that reach success in a long run," he said.
"Although many automakers have been successful in one regional cluster, very few have achieved a dominant position across all or even the majority of the clusters. Agile companies will learn and carve out their own path for winning in the last frontier," added Lang.
lifangfang@chinadaily.com.cn