Changan Ford investigates Kuga (Escape) safety issue
Updated: 2013-12-03 10:41
Changan Ford has sent investigator already to investigate Kuga shaft broken happened in China recent years. And the company will publish its result to public as soon as possible.
After a Shenzhen owner of Kuga exposing its broken shaft accident, an Kuga owner in Hangzhou posted a similar problem picture on website. Meanwhile, Microblog has message about new Mondeo shaft broken.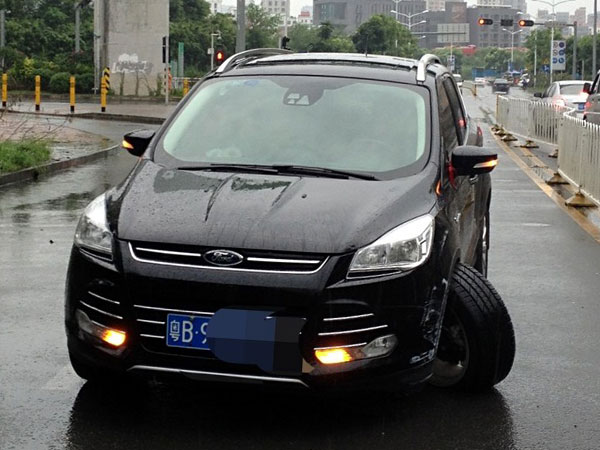 On Sept 22, 2013, a woman surnamed Zhang was driving her Ford Kuga when the left front wheel knuckle cracked and the axle fell off in Shenzhen, Guangdong province. [File photo]
For those questions, Wang Jianhui, director of Changan Ford Public Relationship Department, told media that the company has contacted with owners already. After the owners agreeing providing accidental vehicle, the company will support third party analysis on site. As soon as the company receiving full result report, it will publish to public and has feedback.
Ford Motor US company will initial a recall plan concern with 160 thousand Escape (the US equivalent to Kuga) around the world, the involved SUVs are mostly in the US. 
As it known, the reason for US and Canada Escape recalling is because of engine overheating. It may cause oil leak and crack and trigger fire. It does not concern with broken shaft happened in China recently.
According to Ford China relevant staff introduction, the recall will not include Chinese market. China made Kuga does not have the problem, which it does not include China neither.