Survey: Rising domestic car quality
Updated: 2013-11-04 08:11
Owners report fewer problems, gap with foreign brands closing
Domestic automakers continue to make strides in improved vehicle quality as they narrow the gap with international brands, JD Power & Associates Asia Pacific found in its latest survey of new car owners in China.
The study said the performance of domestic brands helped drive the industry-wide average for reported problems to a record low.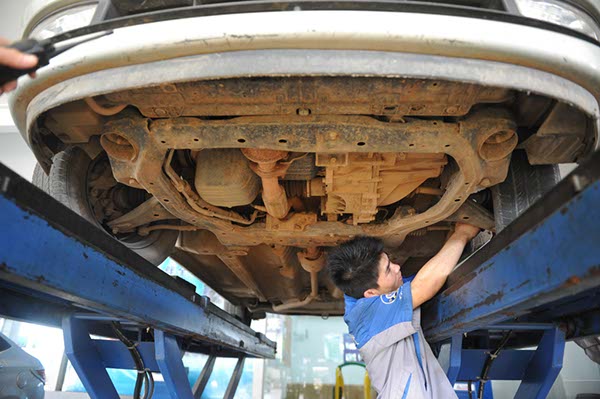 A technician checks a car at a Hyundai dealer in Haikou, Hainan province. When viewed by country of manufacturer origin, South Korean brands had the highest overall initial quality. [Meng Zhongde / for China Daily]
Now in its 14th year, the study examines problems experienced by new-vehicle owners in the first two to six months of ownership in two categories: design-related problems and defects and malfunctions.
The overall initial quality score is determined by problems reported per 100 vehicles.
Overall initial quality of domestic brands improved to a rate of 155 in this year's survey, a significant drop from an average of 212 problems per 100 vehicles in 2012. The quality of international brands also improved, falling to 104 in 2013 from 117 last year.
The gap in quality scores between domestic and international brands narrowed to 51 in 2013 from 95 in 2012.
"We see significant improvement in domestic brands in their initial quality," said Jacob George, vice-president and general manager of JD Power Asia Pacific. "And if they maintain such improvement, domestic brands may catch up to their international rivals in terms of initial quality in 2018."
"Until then, the overall vehicle initial quality in China will be similar to that in the US market," he added.
The improvement of Chinese brands is driven by a significant reduction in the number of problems related to the engine and transmission, and the heating, ventilation and air conditioning systems, each decreasing by 12 reported problems per 100 vehicles, according to the study.
"It is the result of Chinese domestic brands' heavy efforts in 4P - process, people, parts and product design. And they should further focus on these sectors to continue the improvement of initial quality," said George.
Lexus and Mercedes-Benz tied for the top rank in the study, averaging 52 reported problems for each 100 of their cars sold. Subaru ranked third followed by Volkswagen and BMW.
Big step
Mei Songlin, vice-president and managing director of JD Power China Operations, said "domestic brands achieved tremendous improvement in vehicle quality in 2013, with four domestic brands - Trumpchi, Venucia, Roewe and Luxgen - performing above the industry average".
"It's a big step in a year as no domestic brand exceeded the industry average in our study in 2012," he said, noting "we have seen the gap with international brands continually narrow during the past 14 years from 396 in 2000 to 51 in 2013".
Overall initial quality across the industry averaged 119 this year, the lowest rate since the inception of the study in 2000.