Mercedes helps customers to cope with typhoon's effectsm
Updated: 2013-10-28 07:27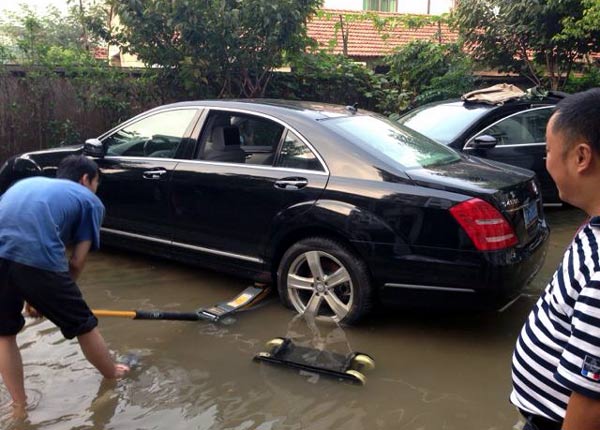 A Mercedes service worker is rescuing a car after a flood caused by Typhoon Fitow in Zhejiang province. [Photo / Provided to China Daily]
Typhoon Fitow has left after hitting East China earlier this month, and through it all, Mercedes-Benz has been with its customers, according to the company.
In the aftermath of Fitow, the automaker together with its authorized dealer partners established after-sales and financing programs to directly support Mercedes-Benz or smart owners whose vehicles were damaged or destroyed as a result of flooding.
"The last thing in this critical time our customers should have to worry about is how to repair or replace their vehicles," said Nicholas Speeks, president and CEO of Beijing Mercedes-Benz Sales Service Co Ltd.
"This series of supportive policies - from after-sales services to financing - again reflects our commitment to customer care, a core business focus for Mercedes-Benz."
Authorized Mercedes-Benz dealers from Hangzhou, Ningbo, Yuyao, Wenzhou, the hard-hit areas in Zhejiang province, reacted quickly to provide road assistance and repair service for damaged Mercedes-Benz and smart cars.
Representatives from Mercedes-Benz dealer groups including LSH, Zhixin, Huace worked closely with Mercedes-Benz to provide a mobility allowance for customers whose damaged vehicles require long repair times.
Following the establishment of Beijing Mercedes-Benz Sales Service Co earlier this year, the company reaffirmed its commitment to a consumer-oriented philosophy as a means of providing a foundation for sustainable business growth in China.
Mercedes-Benz announced in August that it would focus on programs like the 3R guarantees - repair, replacement and return. Mercedes-Benz was the first premium automaker in China to announce a 3R policy, which not only abides by law but also goes above and beyond it.
The company's comprehensive portfolio of customer-oriented initiatives also includes a more competitive cost structure for maintenance that was announced in February in addition to a Service Contract Initiative launched in June, a number of value-added programs, including seasonal checks, service apps and vehicle familiarization workshops.
More detailed information about the measures and qualifications for Mercedes-Benz's program in response to typhoon Fitow can be obtained at authorized Mercedes-Benz dealerships and are available until Oct 31.