From Altos to Benzes: Chengdu locals trade up
Updated: 2013-08-30 09:25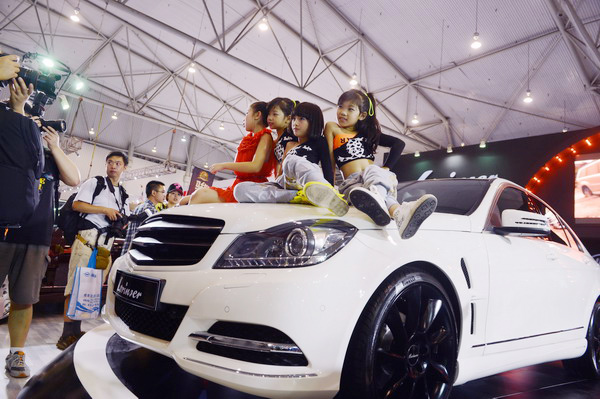 Children pose on the hood of a car at the Chengdu Motor Show last year. Photos provided to China Daily
Luxury vehicle sales up following quake: analysts
Chengdu was once called "Alto City" because the small Suzuki hatchback ruled its streets in the 1990s.
But since then, it has grown into the country's new luxury vehicle hub.
"People in this southwestern city have always been ahead of the times in terms of urban consumption," said Jia Xinguang, an independent auto analyst based in Beijing.
"Once they can afford a car, they empty their wallets and even take out loans to be a driver."
Song Gang first bought a Suzuki Alto in 1998.
"It was convenient to drive such a small car in the streets through the city, and it had low fuel consumption," Song said.
"Among the few models, including Volkswagen Santana, Jetta and Citroen ZX, Alto was definitely the top choice for people in Chengdu at that time."
Special: Chengdu Motor Show 2013
After paying more than 80,000 yuan ($13,111) to buy the Alto, Song spent about 200 yuan to keep it running each month, which was "affordable enough."
Moreover, he said, "It brought a lot of fun to my life."
Though Song purchased a Buick Excelle to replace the Alto in 2002, later trading that for a Ford Mondeo and ultimately an Audi, the Suzuki Alto still holds a special place in his heart, he said.
"It's a memory from that time," said Song, who is now general manager of Chengdu Huasun Steel Structure Co Ltd.
Jia, the industry analyst, said: "Unlike people in other cities, Chengdu locals bought cars only to make life more enjoyable. That's why the city saw a vehicle sales boom after the disastrous 2008 Wenchuan 8.0-magnitude earthquake in Sichuan province, especially in the luxury vehicle sector."