Sales of second-hand cars accelerate, lift retail sales
Updated: 2013-07-12 07:38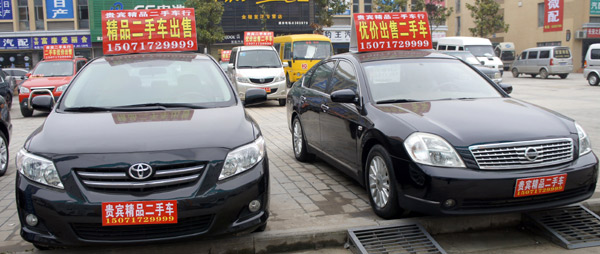 Second-hand cars for sale in Yichang, Hubei province. According to the Ministry of Commerce, more than 90 percent of used car sales are struck privately or through brokers. [Photo / Provided to China Daily]
Although new car sales have been slowing in China since 2011, used car sales are picking up speed and providing momentum to overall retail sales.
Used car sales grew 22.6 percent last year to 359.5 billion yuan ($58.6 billion), with 7.94 million second-hand vehicles moving off dealers' lots, according to the Ministry of Commerce.
The ministry based its figures on a survey of used car markets of 3,000 square meters or larger.
"The growth of the used car market outpaced new car sales by 12.1 percentage points, and used car sales were equivalent to 41 percent of the total new auto sales in China last year," Yao Jian, the spokesman for the ministry, said at a briefing on Thursday.
Yao said retail vehicle sales in China, the world's largest car market, reached 2.38 trillion yuan last year, accounting for 11.49 percent of total national retail sales.
"At the moment, as new car sales are tending to ease, the used car segment will make a contribution to the long-term development of the overall retail industry," said Yao.
First-half car sales volume reached 10.78 million units, up 12.3 percent year-on-year, the China Association of Automobile Manufacturers said on Wednesday.
Although the performance of the vehicle market in the first half exceeded forecasts issued at the start of the year, the CAAM is not optimistic about the second half, and it is sticking to a prediction of 7 percent growth for 2013 as a whole.
"To some extent, used car sales will be supported as more cities restrict the purchase of vehicles for private use to reduce pollution and traffic congestion," Yu Yuanbo, vice-president of the China Automobile Dealers Association, said.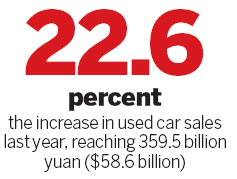 Meanwhile, with the overall rise of car ownership in China, which has passed 120 million units, the whole market is shifting focus to upgrading and replacement.
"In big cities like Beijing, transactions of used cars have overtaken new auto deals. In the future, the trend will spread into smaller cities," said Yao.
Still, the used car market is just starting out. Dealers are small and scattered, information about specific vehicles can be hard to obtain, and Chinese consumers are not fully used to buying second-hand products.
"The overall dealing size is still small, as it is just one-tenth of the same market in the United States," said Deng Li, deputy director of the department of market system development at the ministry.
Further, more than 90 percent of the transactions are struck privately or through brokers, and about 5 percent go through branded used car sales facilities. Just 1 percent are completed via auctions.
"We are realizing the existing problems and also the potential of the used car market, and we are going to further lead and regulate the market," said Deng.
Future plans include helping branded automakers to build used car operations by building on their current marketing channels, giving dealers a broader role beyond just being a site for transactions and building an information platform that will give buyers more knowledge.
Nevertheless, the loosely regulated used car market has stepped forward in recent years.
"The amount of transactions made through top 100 deal markets accounted for about one-half of the total sales volume last year. The market concentration has been improved," said Yao.
"More auto brands are moving into the used car business, as 20 passenger car suppliers have launched a used car replacement business, and 23 auto brands are introducing used car warranty certifications," added Yao.