Clean energy chiefs target US windfall
By Du Juan and Wan Zhihong (China Daily)
2010-12-07 11:01
| | |
| --- | --- |
| | |
BEIJING - A group of business leaders from renewable energy companies will visit the United States, on a fact-finding trip, in the first half of 2011, a US commerce official said on Monday.
The executives, who will be discussing commercial opportunities as well as learning about the business environment, will have one-to-one talks with business leaders in industry and local government officials, said Bryan D. Larson, first secretary for Commercial Affairs of the US Department of Commerce.
"I believe the trip will help the Chinese companies immensely. They will get to know where their advantages are and how to start their business," he said.
Chinese renewable energy companies need to learn more about the business environment and regulations in the US, said Chinese energy officials.
A number of Chinese companies have expressed interest in investing in the US. However, they lack knowledge and experience of US business culture, said Wang Jun, director general at the New Energy and Renewable Energy Department of the National Energy Administration (NEA).
"US companies have invested in many renewable energy projects in China, but Chinese companies are still unfamiliar with the US market," Wang told an energy forum on Monday.
Relations involving clean energy between the countries have been far from smooth recently.
Related readings:


 US in danger of falling behind on clean energy


 China approves more hydropower amid clean energy push


 Trade council continues appeal against US probe into China's clean energy policies


 China, US clean energy co-op offers opportunities: US Energy Secretary
The US government said in October it would investigate China's clean energy policies, while China slammed the move as groundless and irresponsible.
Shi Lishan, deputy director at the NEA's new energy department, said Chinese companies need to establish a business with a US partner that reflects their companies' capabilities and advantages.
"For a Chinese firm to invest in the US renewable energy sector is like a rural migrant worker finding a job in the city. Some can find one while some cannot. Chinese companies need to learn more about US policies, laws, regulations and industry rules to become strong players," said Shi.
Han Liangjun, president of Sinovel Wind, which has a branch in the US, said it is considering investment in wind projects there but looking for a US partner is the first step. Han also said the energy capacity the company hopes to establish in the US will be at least 500,000 kilowatt (kW) if they can find a suitable project.
China Guodian Corp (CGC), one of the largest State-owned power generation groups, is working on expanding its business in the US.
Yin Xiao, director of the economic cooperation office at the International Department in CGC, said the company may invest about $400 million to build up a wind power project with 200,000 kW capacity in the US.
It is an opportune time for Chinese companies to invest in the US renewable energy market because their counterparties are short of capital at present, said Yih-Min Jan, chief operation officer and managing director (China) of Tang Energy Group Ltd.
A US electronics company invented a charger that draws its power from Wifi signals, according to TGDaily.com.
The "Green Seeds" chewing gum bottle designed by Jiang Gonglue makes it easier for you to deal with gum residue.
A French graduate designed a kettle using an incandescent bulb to heat water, according to dezeen.com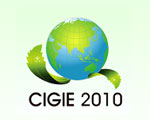 The China International Green Industry Expo 2010 (CIGIE 2010) is an important international green industry exhibition hosted by the Chinese government and held at the Beijing Exhibition Center, Nov 24 to 27.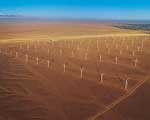 China Wind Power 2010 is the largest and most important international wind power conference and exhibition in China.
TradeWinds Shipping China 2010 moves to examine every important facet of the shipping industry's fortunes.