China's industrial production growth softens in Nov
Updated: 2013-12-10 14:54
BEIJING - China's industrial production growth softened in November, with industrial value-added output expanding 10 percent year-on-year, 0.3 percentage points lower than that in October, official figures revealed on Tuesday.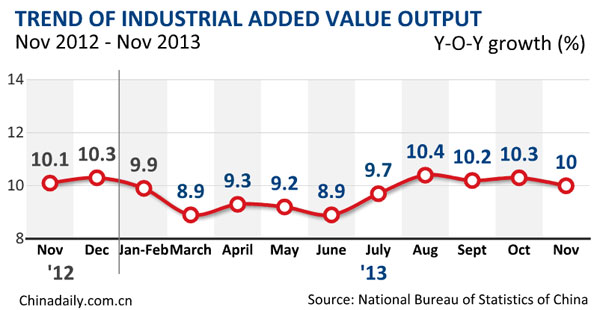 On a month-to-month basis, industrial production in November edged up slightly by 0.76 percent from the previous month, the National Bureau of Statistics said.
For the first 11 months of this year, the industrial value-added output climbed 9.7 percent from a year earlier.
China uses industrial added value to measure business activities of designated large enterprises each with an annual turnover of at least 20 million yuan ($3.27 million).
It is an important indicator to weigh China's industrial activities and the country's manufacturing-based economy.
November's slowdown in industrial production growth was in line with market expectations.
"We believe the moderation from 10.3 percent year on year in October was mainly a result of a high comparison base thanks to the strong rebound at the end of 2012," said a note from a research team with the Bank of America Merrill Lynch led by chief China economist Lu Ting.
Of the 41 industries surveyed by the NBS, 39 posted year-on-year growth in value-added output in November. Notably, auto output growth in volume terms jumped by 25.6 percent year on year to stand at 2.28 million units in November.
By product, the output of power, cement, crude steel and non-ferrous metals in November grew 6.8 percent, 10 percent, 0.6 percent and 13.7 percent year on year, respectively.
Crude oil output, however, contracted by 0.6 percent in November from a year ago, in comparison with a 3.1-percent growth in October, according to the NBS.
Industrial value-added output is part of China's November macro data release by the bureau. The other two figures concern retail sales and fixed-asset investment.