Fair sees nearly 11% slump in deals
Updated: 2013-11-05 07:10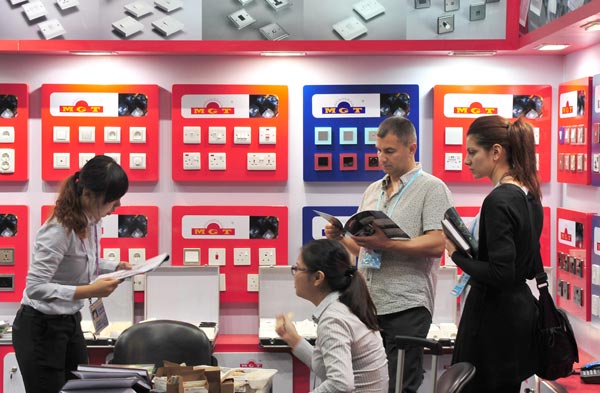 Foreign customers place orders at this year's fall session of the Canton Fair in Guangzhou, Guangdong province. The event is considered a barometer of the country's foreign trade conditions. The number of overseas buyers to this session dropped by 6.5 percent from the spring session. Lu Hanxin / Xinhua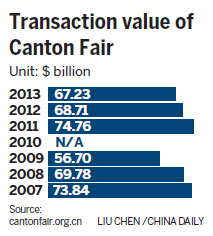 Overseas demand for Chinese goods has yet to fully recover after a dramatic decline in transactions during the fall session of China's largest trade fair, organizers said on Monday.
The China Import and Export Fair, widely known as the Canton Fair, saw the value of transactions drop 10.9 percent from the previous event to 194.6 billion yuan ($31.7 billion) because of lower global market demand, industrial competition and trade friction, said Liu Jianjun, spokesman for the fair.
The number of overseas buyers also dropped by 6.5 percent from the previous spring session to 189,646, Liu said
"In particular, demand for Chinese goods, especially from the traditional market, is still low," said Liu.
Transactions with buyers from the European Union dropped 8.3 percent, indicating that uncertain financial conditions there will continue to affect Chinese exporters' business in the near future, according to Liu.
The fall session of the twice- yearly fair ended Monday in Guangzhou, capital of Guangdong province.
Meanwhile, demand from emerging markets also dropped, with transactions with buyers from BRICS members Brazil, Russia, India and South Africa dropping 17.2 percent from the previous session, organizers said.
Liu, also deputy director-general of the China Foreign Trade Center, urged Chinese manufacturers to attach more importance to building their brands.
"Booming manufacturing business in neighboring countries and regions, thanks to relatively lower costs in raw materials and labor, has affected China's trade," said Liu.
As a result, Chinese companies should take bolder initiatives to upgrade their businesses, he said.
"China's foreign trade should no longer rely on labor-intensive manufacturing, given that the country has lost its advantages in production and labor costs."