Ticking off sales in timely work
Updated: 2013-10-24 07:34
Chronicles of chronology have proved to be both challenging and charming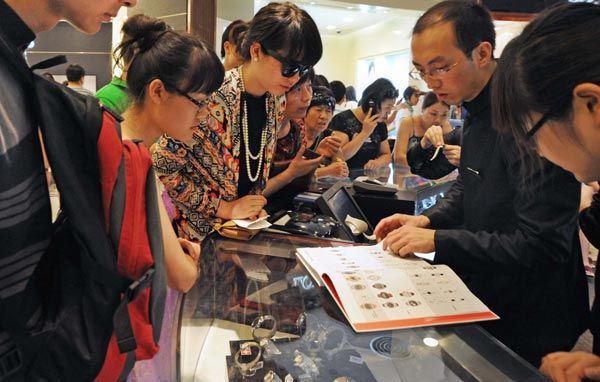 Checking a catalogue of Omega watches at a duty free store in Sanya city in 2011. Zhu Lan / For China Daily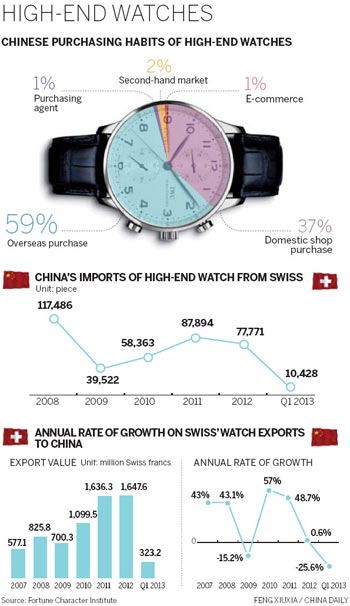 Although he was born in the sunny southernmost Caribbean island of Trinidad, a tropical paradise until 1962 part of the British Empire, Stephen Urquhart didn't spend much time enjoying the fantastic scenery of his hometown.
He studied abroad for much of his childhood and started his career as a marketing officer at Swiss luxury watch manufacturer Omega SA at the age of 22 after completing a degree in industrial management at the University of Neuchatel in Switzerland.
He has been a member of the extended group management board at Omega since 2000 and is president of the company.
Thirty-two years after graduating from university, he became president and global chief executive officer of Biel-based Omega.
"Although I originally didn't have an ambition to develop in Omega, the characteristics of the watch industry, including its specialty and also practicality in being useful and closely related to many people attracted me a lot," Urquhart said.
Having been engaged in the watch industry for 45 years, Urquhart believes what convinced him to remain in a life of time was also Omega's target customers, especially those in China, the brand's biggest market globally for the chronometers.
"I think Chinese customers' choice of our products isn't aimed at showing personal status, but it is because of the products' practicality instead," Urquhart said.
"People can wear an Omega watch for 30 to 40 years. However, the tenure of use for a high-end handbag or car doesn't last for such a long time," Urquhart added.
Since 2010, China has topped Omega's global markets with the biggest sales volume in the country. According to the 2012 world watch report by Digital Luxury Group, the Seamaster collection ranked top among 1,300 categories as the most popular watch in China.
Fueled by the booming market demand and good momentum in China, Omega has been expanding at a fast pace, stepping up to opening more shops in first- and second-tier cities in China.