Weak factory index sounds growth alarm
Updated: 2013-07-25 01:08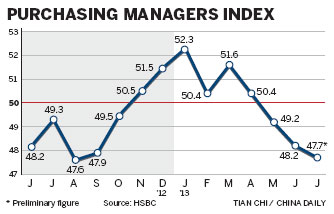 Views divided over whether steps needed now to stabilize the economy
Growth of China's manufacturing sector slowed to an 11-month low this month, in the latest sign of a steepening slowdown in the economy.
The preliminary reading of the purchasing managers index, a main gauge of factory operating activity, dropped to 47.7 in July, down from 48.2 in June, HSBC said on Wednesday.
The HSBC PMI has been below 50 since May, meaning contraction in the manufacturing industry, while a reading above 50 indicates expansion.
In July, all of the subindexes of the HSBC PMI, including output, new orders, new exports and employment, declined. The employment subindex has dropped for four consecutive months, standing at 47.3 in July, compared with 47.6 in June.
The manufacturing sector contributes nearly one-third to China's GDP, which is experiencing a growth slowdown.
Qu Hongbin, chief economist for China and co-head of Asian economic research at HSBC, said a weakening manufacturing sector may add pressure to the labor market.
"As the government has recently stressed that securing a minimum level of growth is required to ensure stable employment, the PMI reinforces the need to introduce additional fine-tuning measures to stabilize growth," Qu said.
But Wang Tao, chief China economist with UBS, said that the economic slowdown has not led to significant job losses so far, as new jobs in urban areas and the number of migrant workers are still growing steadily.
Solid growth in the service sector and demographic shifts in the labor market mean the country's employment situation will be better than five years ago, Wang said.
The service sector is providing more than 36 percent of the nation's jobs, compared with 30 percent from the industrial sector.
"This will support the government's decision not to roll out big stimulus measures and to focus on far-reaching reforms," Wang said.
Premier Li Keqiang has indicated that the government is not likely to introduce major stimulus measures as long as the growth and unemployment rates remain in a "safe zone".
Zhu Hongren, chief engineer at the Ministry of Industry and Information Technology, said at a news conference on Wednesday that weak demand and overcapacity are key difficulties facing Chinese industry.
"The task of industrial transformation and upgrading is urgent. We should not slacken and must face it seriously," despite growing challenges, he said.
Amid the economic slowdown, the situation facing small and micro-enterprises is becoming tougher, because of increased labor and financing costs, Zhu said.
On Wednesday, the Shanghai Composite Index slipped 0.52 percent to 2,033.33 as the market fretted over the outlook for manufacturing.
In the first six months, industrial output increased 9.3 percent year-on-year, compared with 9.1 percent in the first quarter, the National Bureau of Statistics said.
FocusEconomics Consensus Forecast, a global research institution in Spain that provides economic forecasts for more than 70 countries, downgraded its prediction for China's industrial production growth on Monday to 9.5 percent in 2013 from 10.3 percent.
Zhang Wenhua, owner of a company in Nanjing, Jiangsu province, which exports machinery to Europe, said, "I have cut the number of production lines from three to one since the middle of last year and the number of employees was also reduced from 300 to half that, to minimize costs."
Zhang added that the company's performance is not expected to improve this year, compared with 2012, due to lasting negative effects of a weak global recovery.
Shoe company Wenzhou Jinlishi saw new orders fall by more than 20 percent from a year earlier in the first half.
"If we fail to make a profit until the end of September, we will probably stop production to prevent more losses," said Ke Zhongliang, a sales manager at the company.