Officials weighing green benefits of carbon taxation
Updated: 2012-01-06 09:41
By Wei Tian (China Daily)
| | | | | | | | | | | |
| --- | --- | --- | --- | --- | --- | --- | --- | --- | --- | --- |
|   | | Comments() | | Print | | Mail | | Large Medium  Small | 分享按钮 | 0 |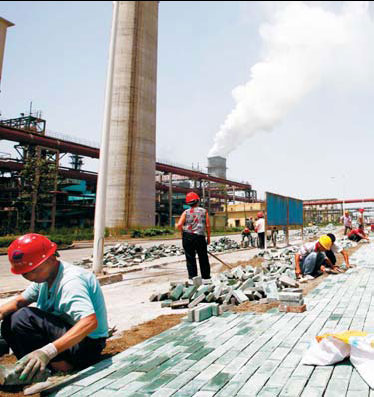 The production area of a coking coal enterprise in Huaibei, Anhui province. Experts say the main targets of carbon taxes will be large users of coal, crude oil and natural gas. [Photo / China Daily]
BEIJING - China is considering levying a carbon tax within the next three years to tighten its regulations on polluting industries and put the economy on a greener path.
A draft of a new system of taxation has been submitted by the Fiscal Science Research Center of the Ministry of Finance to the ministry for review. The plan would impose a tax on emissions of greenhouse gases, Su Ming, deputy director of the center, said on Thursday.
Su said the tax is likely to be charged at a rate of 10 yuan ($1.59) for each ton of carbon dioxide that a business or other operation discharges. That rate is expected to increase gradually over time.
The main targets of the tax will be large users of coal, crude oil and natural gas, and tax cuts will be given to companies that take steps to reduce their emissions, Su said.
Jiang Kejun, a researcher with the National Development and Reform Commission's Energy Research Institute, who helped draft the tax proposal, said the tax is likely to be collected only from producers and wholesalers of fossil-fuel based energy. This will make it easier to collect the tax.
"But it may still raise the price of energy," Jiang said.
China emitted 8.33 billion tons of carbon dioxide in 2010, a quarter of total global emissions, according to a report by the UK energy company BP PLC. During the Durban climate talks last year, China pledged to reduce the amount of carbon dioxide produced for each unit of GDP by 17 percent by 2015.
Even so, the recent Central Economic Work Conference determined that a greater priority should be placed on reforming the country's tax system in 2012 and on researching the possible effects of imposing taxes to protect the environment.
"But 2012 may not be a good time to introduce carbon taxes, considering the risk (they might introduce) of slowing economic growth," Su said.
He said the taxes will begin to be collected by the end of the 12th Five-Year Plan (2011-15).
"The carbon tax will bring many benefits," Jia Kang, who heads the finance ministry's research center, was quoted as saying by the Economic Information Daily.
"One is to raise companies' environmental costs and force them to improve their production technology."
Meanwhile, the additional revenue from a carbon tax will make it easier for the government to lower other sorts of taxes imposed on businesses, such as income taxes, he said.
Lin Boqiang, director of Xiamen University's China Center for Energy Economics Research, said there are still details to be decided about the plan. "Unlike the measurement of pollutants, carbon emission can be found in all parts of the value chain," Lin said. "So a tracking system will have to be established to carry out the plan."
Late last year, the National Bureau of Statistics said that indexes measuring emissions of greenhouse gases and power consumption will be published periodically as a test this year.
Lin said there are still disputes over the ratio for the proposed tax. He said environmental protection authorities are calling for 20 yuan to be charged for each ton of carbon dioxide emitted.
He said the tax should not be viewed as way of raising money.
"The carbon tax should be a means of cutting emissions rather than a source of fiscal revenue," Lin said.
Su with the finance ministry still supports the introduction of a carbon tax even though its burden may be transferred to users in the end. "It is time to let people know they have to pay for what they use," Su said.
Lan Lan contributed to this story.