Developers go cold on once-hot lots
Updated: 2011-12-28 09:21
By Wang Ying (China Daily)
| | | | | | | | | | | |
| --- | --- | --- | --- | --- | --- | --- | --- | --- | --- | --- |
|   | | Comments() | | Print | | Mail | | Large Medium  Small | 分享按钮 | 0 |
SHANGHAI - Many prime land sites in major cities that were the target of heated bidding by developers have become hot potatoes for their owners, analysts and industry experts said.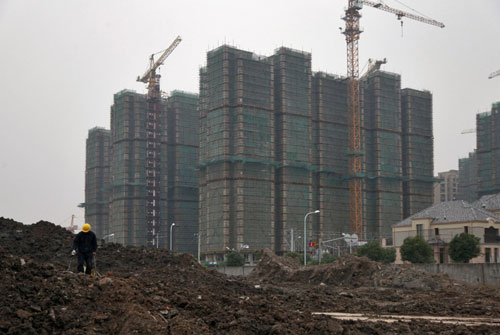 An empty lot in front of a residential site under development in Shanghai. According to experts, to keep their finances sound, developers will either sell their properties at prices below the market average or resell the undeveloped land.[Photo/ Bloomberg]
In February 2010, four developers jointly won the bid for a 45,472 square meter (sq m) mixed-use site near Shanghai's iconic Bund district for what was then a record price of 34,148 yuan ($5,396) a sq m. Based on preliminary plans for the site, which would have a gross floor area of 270,000 sq m, the transaction was valued at more than 9.2 billion yuan, according to the local government.
But now, with the property market reeling from government policies that include credit curbs, one of the major developers wants out.
Last month, rumors began to fly around town that the once-proud owners of the site were putting their prized trophy on the block. Soon thereafter, Shanghai Zendai Property Ltd, a member of the consortium, announced in Hong Kong that it was in talks with potential buyers for its 35-percent stake in the site.
Wu Yang, project director for the site, said: "My job is to develop the plot, and so far my work is going smoothly, meeting no interference." But he declined to disclose what progress had been made.
Selling prime land during the industry's downturn is becoming a popular ploy for domestic developers. Sites that were snapped up after fierce bidding in the past two years are facing revaluation in Beijing, Shanghai and Guangzhou, China Business News reported.
Three sites sold for record prices at auction in Beijing ahead of the central government's tightening policy have become burdens to their owners.
One site lay idle for some time before changing hands. The owners of the second site have delayed construction as property prices in the neighborhood sink.
On the third site, apartments are being offered at prices that would yield razor-thin profits but buyers are few, the Economic Information Daily reported.
With developers' cash flow at stake, these once-promising projects have become "hot potatoes", said Song Huiyong, a research director at Shanghai Centaline Property Consultants.
Song said paying the bill for a winning bid is a great burden for cash-strapped property developers. Developing a site valued at more than 9 billion yuan into planned projects will require at least another 5 billion yuan, according to Song.
Data from DTZ Holdings, a global real estate services company, show that 6.94 million sq m of residential space had been traded in Shanghai this year as of Dec 13, down 29.9 percent year-on-year. The supply of new residential space was 9.9 million sq m, down about 10.2 percent.
With many new apartments failing to find buyers, developers can't recoup their investments, nor can they start a new round of land bidding or property development.
"The central government has made it clear that there will be no big change in property-tightening policies in 2012. That means low transaction volumes will persist next year. To get through these tough times, developers are striving to manage their cash flow and cut spending," said Song.
To keep their finances sound, developers will either sell their properties at prices below the market average, securing slender profit margins, or resell the undeveloped land, according to Jenny Wu, DTZ's head of residential property for East China.
The former auction kings, especially owners of costly residential plots, will feel increasing pressure on their capital flows. To escape their plight, there will be a growing number of mergers and acquisitions, as well as a boom in cooperation among large developers next year, said Laurence Zhu, Colliers International's director of advisory services in East China.
"Those with strong capital flow will grab the chance to enlarge their market share. We will see a reshuffle of big-name developers," said Zhu.
As for cash-rich developers, maintaining a "normal" development pace will be a good idea amid a sluggish market. Wu forecast the market will improve in the second half in 2012.