Man with a passion for pet food
Updated: 2011-12-08 16:31
By Raymond Zhou (China Daily)
| | | | | | | | | | | |
| --- | --- | --- | --- | --- | --- | --- | --- | --- | --- | --- |
|   | | Comments() | | Print | | Mail | | Large Medium  Small | 分享按钮 | 0 |
General manager believes that a society that loves pets is much better
BEIJING - China has 60 million pet cats and dogs. The sheer scale of pet ownership astounded Mark Andrews when he first arrived in the Middle Kingdom in August 2009, but when the general manager for the pet business of Mars China thinks about it in terms of the country's human population, he becomes convinced that the number of pets would only increase.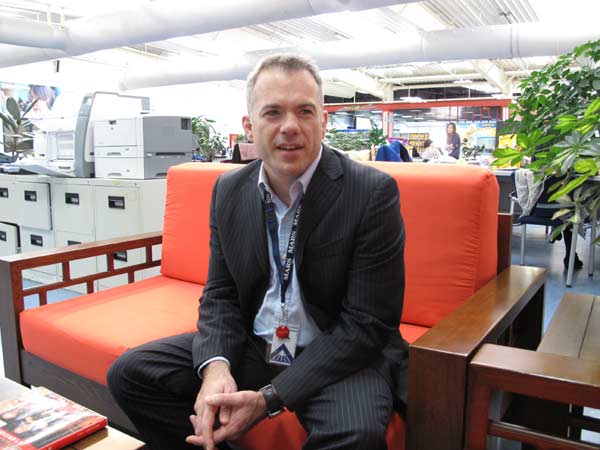 Mark Andrews 

[Photo/China Daily]
That portends well for Mars, the company behind Whiskas cat food, Pedigree dog food, Cesar dog food, Chappi dog food and KiteKat cat food, among others. Some of these brands go back 80 years.
Andrews has noticed a few interesting differences about his consumers - the pets in China - and their relationship with their owners. For example, cats are very close to their owners and tend to stay at home while the owners go to work.
In the United Kingdom, where he joined Mars Pet UK in 2001, a cat may have two owners, slipping in and out of pet doors without each owner finding out.
Chinese owners love their pets just like those in other countries, Andrews says, but their kinship is often manifested in a blind conviction that their way is the best. While in Western countries as much as 70 percent of the food consumed by pets come from companies such as Mars, Chinese pet owners prefer to cook for their pets, with only 3 percent of owners feeding them with prepared pet food.
The problem is, "human food isn't the most nutritious for cats or dogs", says Andrews.
According to research, only 40 percent of a human meal is digested by pets, with the remainder just wasted. With specially designed pet food, the ratio goes up to 84 percent.
That also addresses the concern of cost. Once you factor in the nutrition, "our product is value for money". And that has not taken into account the comparative cost of cooking for pets, such as the time and ingredients.
"The biggest barrier is nutritional awareness," Andrews says. That means reaching out to potential customers and educating them about the nutritional facts of pet food against home-cooked food. When looking at general food safety issues, pet owners will have more incentive to at least try out the new way of feeding their animal friends.
Growing market
Mark Andrews has been following news stories that involve pets in China.
He is heartened by what he read over the past year, especially stories such as the rescue of a truckload of dogs on the way to being slaughtered as food for restaurants. While he recognizes those dogs are not pet dogs and just bred for food, he thinks it "fantastic that society as a whole is embracing the importance of pets".
Andrews sees feeding pets as part of a complex human-pet relationship. "We are not just in the business of selling pet food," he says, but "want to have a positive impact on the society in which we do business". He believes that a society that loves pets is much better for humans as well.
In a society like China, where word of mouth is often the most powerful tool of communication, Mars often sets up stalls in apartment complexes and sends experts to promote scientific knowledge.
They have found that people who just bought a puppy are the "most demanding because they are hungry for knowledge", while those who have owned pets for a long time prove to be more resistant to different ways of feeding.