Cultivating a novel way to grow food
Updated: 2011-11-14 09:24
By Xu Junqian (China Daily)
| | | | | | | | | | | |
| --- | --- | --- | --- | --- | --- | --- | --- | --- | --- | --- |
|   | | Comments() | | Print | | Mail | | Large Medium  Small | 分享按钮 | 0 |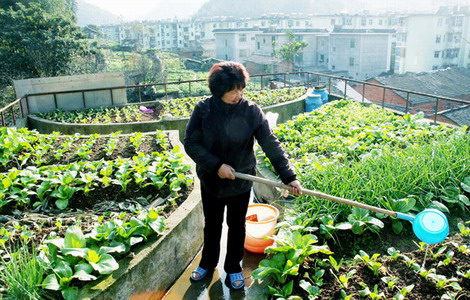 A woman watering vegetables on the roof of her house in Dexing city, Jiangxi province. [Photo / China Daily]
Office worker dreams up the idea of inner-city rooftop farms
SHANGHAI - Like millions of office workers in the city, 32-year-old Huang Ke, a landscape designer, used to spend eight hours a day in a cubicle measuring just one square meter.
But despite the space restrictions, the mother of a two-year-old girl and passionate ecologist always wanted to improve her immediate environment.
And so it was that six months ago, as she stared out of the window at the unassuming rooftop of a six-story office building opposite her own, she had the idea of using it to cultivate food.
"People have been growing vegetables online in virtual farms and at home on balconies and so I just thought why not use the vast expanse of office rooftops?" said Huang.
One month later, on the rooftop of a four-story office building on the outskirts of the city, Huang and her partner, who owns a company selling planter boxes at the site, unveiled a 120-square-meter greenhouse, the first of its kind in Shanghai, if not in China.
With the help of solar power and rain collecting facilities, and an investment of 30,000 yuan ($4,688), the farm, called V-roof, grows 20 varieties of herbs, vegetables and fruit year-round and is expected to become a working example of something Huang describes as "urban rooftop agriculture" that can be extended across the entire metropolis.
"The benefits are numerous," said Huang. "It can help reduce heat from the sun, changing the temperature of the house. It can give office workers something to do in their lunch hour that involves exercise. It can also meet the increasing demand for organic produce among city dwellers."
The plan at first was to lease small plots directly to office workers at a cost of, for example, 1 yuan a square meter every month.
However, Huang's project won an "E-idea" competition, an innovative contest that funds and mentors young eco-entrepreneurs run by the British Council and LRQA business consultancy. It then attracted the attention of investors and businesses.
"Unlike many start-ups, we were spared the task of finding a market or explaining the feasibility and profitability of what we are doing," said Huang. "The fact is everyone showed a keen interest once we told them about rooftop farms."
As many as six venture capital companies offered to fund Huang's project, but Huang and her team of six people, all colleagues from work, said that they are currently focusing on forming partnerships with businesses by helping to build large greenhouses on roofs and receiving a certain amount of commission.
"The idea of rooftop gardens, or farms, is nothing new globally speaking," said Zhu Shengxuan, the China executive design director of Expo Garden 2010, an expert on urban ecological planning and now a counselor for Huang's project.
"But in China it is more significant because it can help solve such problems as the limited land resources for agriculture and food safety and, ideally, allow farmers to do what they are skilled at in cities."
According to a Shanghai municipal government plan, there will be 1.5 million square meters of newly added green areas in the city by the end of 2015, of which 1 million will be located on rooftops. Statistics from the city's land resource department show that Shanghai now has 29 million square meters of unused rooftop space.
A similar plan has been initiated by Beijing's Bureau of Landscape and Forestry, in which 1 million square meters of "vertical greens" will be added to places such as the exteriors of buildings, highways and rooftops within five years.
"Compared with traditional scenic greenery, rooftop farms cost less both in getting started and operating because they require less labor, and water and, what's more, they will return a dividend because the produce can be sold to a local market. The shipping costs will also be low, if not zero," said Huang.
It is estimated that the capital cost to start a rooftop farm is 300 to 500 yuan a square meter. While it remains uncertain how much profit a V-roof could yield, if anything, a campus canteen and a hi-tech park in Shanghai have already signed up to the project, involving a total of 1,000 square meters.
"The biggest obstacle, or concern, for us to expand the project is how to get the right of use of these rooftops. Some people worry about the safety problem of putting such a heavy farm on top of their offices, and other companies simply don't have the ownership of the roofs," said Huang.
To tackle the problem of the bearing capacity of rooftops, Huang and her team have reduced the proportion of the farm to 50 percent of the available space, while leaving the rest for recreation facilities and decorative facilities.
"So long as the idea is accepted, we can make all kinds of adjustments to make it work," said Huang.
The office worker is not the only person thinking along such lines. In Wuhan, Hubei province, Zhang Yuan, the chief counselor of the city's urban planning and rooftop development project, is also drawing up a blueprint for a million-square-meter rooftop farm that can feed 1.6 million people.
"If every acre of land can produce two tons of vegetables a year, and every resident consumes 0.5 kilograms of vegetables a day, then our planned million-square-meter rooftop farm can feed 1.6 million people for a whole year," Zhang was quoted as saying by the local newspaper, Hubei Daily.
While the Wuhan plan is still in its infancy, Huang in Shanghai is making good progress.
"By September next year, there will be 10,000 square meters of V-roof in Shanghai," she said. "In three years, more than 100 hi-tech parks will be covered with a total area of 300,000 square meters of V-roof run by a team of 100."