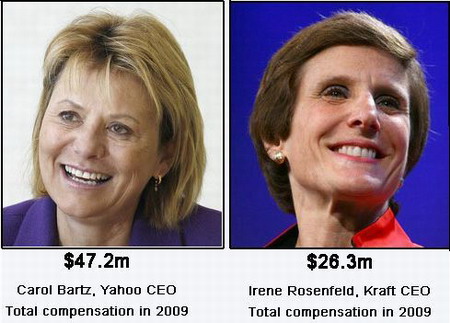 Sixteen female bosses at S&P 500 firms earned average of $14.2m
NEW YORK - Chief executive officers' pay is shattering the glass ceiling.
Boosted by a $47.2 million package for Carol Bartz of Yahoo Inc and $26.3 million for Irene Rosenfeld of Kraft Foods Inc, compensation for women CEOs at the biggest US companies is booming.
Sixteen women heading companies in the Standard & Poor's 500 Index averaged earnings of $14.2 million in their latest fiscal years, 43 percent more than the male average, according to data compiled by Bloomberg News from proxy filings. The women who were also CEOs in 2008 got a 19 percent raise in 2009 - while the men took a 5 percent cut.
"When you see numbers like this, one can truly say that the glass ceiling in corporate America has been shattered," said Frank Glassner, CEO of San Francisco-based Veritas Executive Compensation Consultants LLC. "I don't remember seeing women ever getting paid more than men."
Graef Crystal, a pay expert who analyzed the data for Bloomberg News, said that "compensation committees are saying we don't want to have any trouble" over underpaying women, "so if we err, let's err on the side of giving them too much".
Darwinian competition is also playing a role, said Sheila Wellington, a professor of management at New York University who studies women business leaders.
"These are the strongest, fittest and toughest who survive," according to Wellington, who said she was offered half the salary of male peers for her first job at a mental health facility in 1968. "They've had to negotiate all the way up the ladder."
Compensation consultant Todd Gershkowitz, senior vice-president of Los Angeles-based Farient Advisors, said he couldn't recall a female CEO ever receiving as much as the 61-year-old Bartz. Her package was bolstered when she joined in January 2009 by a five-million share options grant from Yahoo, valued at $27.2 million, and a $7.5 million share grant.
Related readings:


 Wall Street fat cats fail to lose weight


 Training women entrepreneurs


 Female CEOs' pay fell more than men's: survey


 Five outstanding women scientists win 2010 UNESCO award
The option is unusual in that it begins to vest, or become cashable, if Yahoo stock hits and stays above $17.60, or 50 percent above its $11.73 price on the date it was granted, for 20 straight trading days before 2013, Crystal said. Most options vest on a fixed timetable, irrespective of price. Yahoo, based in Sunnyvale, California, rose above the $17.60 level last month, falling before the option could vest.
"Welcome aboard" packages are standard fare for new CEOs. Yahoo went overboard when it added $7.4 million in additional stock and options to Bartz's pay just 25 days after the initial award, Crystal said.
"Why does she need to eat again 25 days after she swallowed an entire pig?" he said. "Some pythons need to rest before another meal."
The $42 million value attributed to the option and stock grants in Yahoo's compensation disclosure wasn't realized in 2009 and is linked to "increases in long-term shareholder value" and individual and company financial performance, said Dana Lengkeek, a Yahoo spokeswoman.
In the broader workforce, women working at least 35 hours a week in the first quarter of 2010 received 79 percent of the wages earned by men, according to the US Labor Department. Female heads of companies of all sizes made about 75 percent of what men did in a 2009 department survey of 1.1 million CEOs. About 24 percent were women.
At Kraft, Rosenfeld received a 41 percent raise last year as the shares fell behind the S&P 500's performance by 21 percentage points. In a Crystal model that adjusted pay for shareholder return, she would have taken an $18 million pay cut, and was rated as the 16th most overpaid CEO among 271 studied.
Crystal looked at S&P 500 companies that had filed 2009 fiscal year proxies by April 16. Rosenfeld, 57, was awarded $10.6 million in a performance-based bonus, which Kraft's proxy attributed in part to her pursuit and acquisition of Cadbury Plc, which made Kraft into the world's largest confectioner.
Bloomberg News